A family fights, but always comes back together. That's what Team Nikita is ... a family!
While the gun fights, chase scenes and the hand-to-hand combat are fun to watch, the real gem of Nikita is the subtle interactions. It's the character moments, whether tender or manipulative; that's where Nikita stands out. "Dead Drop" featured the perfect combination of action and heart.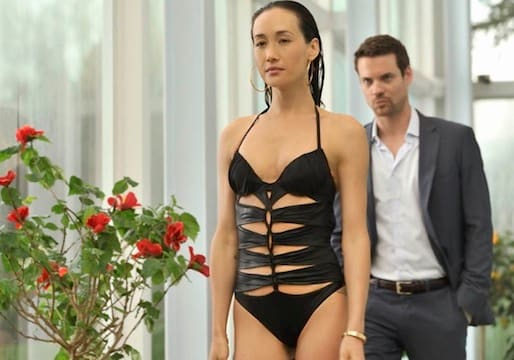 How awesome was it that Michael and Ryan went against Nikita? She has undoubtedly been the leader, but the team is not blindly under her control. When the safety of the world was at risk, the guys followed their gut.
It was a surprise when Nikita showed up to help them, though she did follow her own gut by bugging Kendrick. And, she was quick to go after him when he called Percy. Thankfully, Ryan was able to figure out Kendrick's coded message before Nikita pulled the trigger. The target instantly became someone Nikita needed to save. And, in that moment, Team Nikita grew by one.
What is Percy up to, anyway? He has plutonium, retrieved the triggers and needs one more component to have a bomb. But, he said to Roan, "Maybe if she had the slightest idea of what was going on. But, she just thinks I'm building a bomb." What?!? He is building a bomb, right? Or, does he have something else planned?
Now that Kendrick gave Team Nikita access to the CIA data, will they be able to stop Percy? No matter what he is up to, it can't be good. It's going to be a wild ride to the end of the season with only two episodes left.  Plus, Amanda will be returning in the finale. Which side of the fight will she be on? Or, her own?
Outside of their fight against Percy and Division, Team Nikita is comprised of people with blood flowing throughout their bodies and even emotions. That was no more clear than during this mission. It was all put into perspective for Alex when Sean got shot; just as Nikita being held hostage did for her and Michael.
The drugs probably didn't hurt either, but Sean declared his feelings for Alex. And, she accepted them. The kiss in the back of the car was perfect, only made better by Birkhoff telling Ryan to be quiet and let them savor the moment.
While that was a heartwarming moment, the big prize goes to seeing the entire team bonding at Ryan's safe house after the beach house was blown up. Michael said it best when he named it their "homequarters."
Unfortunately, someone is going to die before the season is out. Will it be someone on Team Nikita? Was that their last happy moment together? Let's hope not.
Carla Day is a staff writer for TV Fanatic. Follow her on Twitter and on Google+.