It's all a game for Conrad Grayson.
It may not always seem that way when it comes to this mischievous Revenge character - he hasn't exactly smiled his way through season one - but Henry Czerny explained to me over the phone that he sees the basis for Conrad and Victoria's relationship as "challenge" for his head of household.
"What he found in Victoria was someone who could match him," Czerny said of the attraction between the crumbling couple. "It's great to be with a powerful person, but when she turns that power around and uses it in the marriage itself? That's a different story."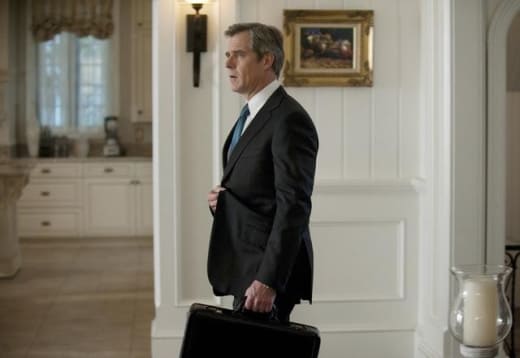 Czerny added that if there's one thing Conrad does "extraordinarily well, it's compartmentalize," which is why he can focus on the family business while the family itself is falling apart.
Along that line, what did he actually tell Daniel near the end of "Absolution?" It couldn't have been the entire truth, could it? Including the set up and murder of David Clarke?
"You can assume he told Daniel everything he needed to know in order to one, be his own man; and, two, protect the company," Czerny said.
Yes, it all comes back to the company for Conrad Grayson.
Czerny said he spoke to a number of hedge fund managers in preparation for the role and they all delivered the same message: it's vital to at least appear in control.
"The last thing they went is for anyone to think they don't know what's going on," the actor says, comparing this to how Conrad operates at all times. "Victoria is tortured, she needs people to love her. But Conrad isn't interested in that. He's playing a game and seeking his own notion of freedom, which is financially structured."
The star emphasized that concept of freedom often throughout the interview, saying Conrad doesn't find Emily a threat, for example, because he isn't worried about how she affects his relationships with various family members, a stark contrast to Victoria.
"As long as the game is interesting to Conrad, he's in it. And if he has to defend what he's earned, he will play it to the death."
A Revenge season finale tease perhaps? Czerny simply said of events to come:
"Victoria, once she has the money from the company, will align herself more with authorities to get back at Conrad… but in doing so, she may put the whole family in jeopardy."
Matt Richenthal is the Editor in Chief of TV Fanatic. Follow him on Twitter and on Google+.