Secret Circle Exclusive: Andrew Miller on "Epic" Finale, Complexity of John Blackwell
Matt Richenthal at . Comments
Is John Blackwell good or evil? How will Diana react to the startling admission made by Charles last week? And how is conjuring up a hot pizza delivery guy ever a bad thing?
With The Secret Circle season finale just over 48 hours away, I just got off the phone with Executive Producer Andrew Miller. He answered a number of these questions, while going back over the season as a whole and explaining why Thursday's episode is titled "Family."
Read on for excerpts from the Q&A.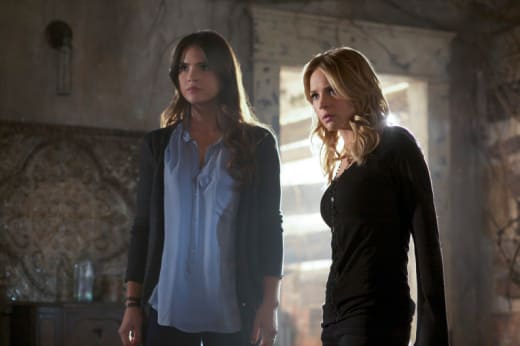 Will we learn John Blackwell's true intentions on the season finale?
The short answer is yes. We'll find out exactly what he wants and why he came to Chance Harbor. It will be a strong enough case for Cassie, at least, to determine her future as a human being… but there's a complexity to his character. We're gonna let the audience decide for themselves what they think of Blackwell.
Was that complexity something you aimed for all season?
There should be that kind of ambiguity. From the beginning, when Cassie comes to Chance Harbor and then enters the Circle, she's very innocent… she then goes through 22 episodes of craziness. And no one is all good or all bad. We tried to play that fine line with all the characters… to order up a hot pizza guy may be fun, but there's something wrong and manipulating about that, too.
Will there be fallout for Diana after learning Charles killed Amelia?
In a big way. She'll be distracted at first by Faye's kidnapping, but let's just say it's one thing to realize you have two dads; it's another to realize they are both evil.
The finale is titled "Family" because all of the characters will have to define what family means to them, whether family is defined by blood or by choice. Diana will definitely be placed in a position to choose.
And what about Charles himself?
There will be a reckoning for Charles… look, magic can be a form of unearned power. You have the ability to do powerful things, but that doesn't mean you're a strong person. Charlie and Dawn are prime examples of that, Charles especially because of all he's done. Magic can also feel like an easy way out, but Charles will need to make some hard decisions if he's to become the father he wants to be.
How will Melissa react to killing Nick?
It will give Melissa a certain amount of closure. She's been searching for answers all season in all the wrong guys, and she'll realize that maybe those answers lie in the Circle.
I know I speak for many readers here when I say I hope this is a season, and not a series, finale. But if it's the latter, will stories be tied up?
It's an epic finale. It ties together the storylines of the kids, while weaving in their parents and what happened 16 years ago. It's satisfying and moving and it answers season-long questions. But in answering questions about Blackwell, it will create new ones for next season if we get one.
Do your part to make sure it does by tuning in, live, on Thursday night. Then, return to TV Fanatic soon after the finale concludes for a detailed review.
Matt Richenthal is the Editor in Chief of TV Fanatic. Follow him on Twitter and on Google+.