Smash Review: Did Bombshell Bomb?

Carla Day at .
Bombshell was rushed into workshop and quickly made it to out of town on "Previews." As Rebecca was put to the test, all Smash fans wondered: could she pull off Marilyn? Did the audience love the musical?

Those questions were answered during the first preview performance with a resounding NO. Though the audience did applaud and enjoy the songs throughout Bombshell, the ending was too morose. Perhaps Marilyn's suicide would be a good conclusion for a tragedy, but not an otherwise upbeat musical.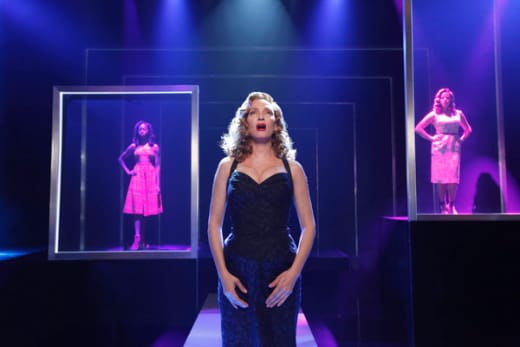 One highlight of the preview was the new Karen and Ivy song "Smash!" that was added during tech. Even though neither of them are the lead, it gave them an opportunity to showcase their talents together. Also, it led to a touching moment with the two former (and future?) rivals acknowledging each other's talent.
With the Marilyn suicide ending out, what will Julia come up with? She seemed confident at the church that she thought of something brilliant. With that update and Rebecca out, the musical is sure to receive a standing ovation. Or so they can hope.
Are you glad to see Rebecca go? She ended up being much better than expected, but she never reached the levels of either Karen or Ivy. She may have been a movie star, but she wasn't destined to be one on Broadway.
I'm surprisingly disinterested in finding out who put the peanuts in her smoothie. Rebecca knew that her drink was tainted and not only took a small sip, but a large gulp after. If the production does find the culprit, they should be dismissed immediately. But if they don't it's no loss; in the end, it worked out for all involved. Rebecca was "scared" and needed to be replaced.
We are back to the same old question: Who should be Marilyn? This is a difficult one. As a viewer, we know everything that Ivy has done. She may be the one with the experience and she definitely has the talent, but does she have the strength to pull it off? From a karma standpoint, she shouldn't be rewarded for her bad behavior, but it may be what's best for Bombshell.
Karen is the innocent one. She hasn't done anything to hurt anyone and is dependable. She is just as talented a singer and dancer as Ivy, but green. She has never been in a production before, especially not as the lead. She can pull it off, but will the producers even give her the opportunity?
Who put peanuts in Rebecca's smoothie? Does it matter?
Who should be Marilyn now?
Odds and Ends
Dev and Ivy slept together. Ugh! Yes, they were drunk and upset, but they knew they would be hurting Karen. What did she ever do to deserve such horrible treatment? I hope that the secret never comes out, but it probably will.
I had mixed feelings about the proposal conversation between Karen and Dev. She was so sweet and forgiving. Unfortunately, Dev didn't deserve it. Not sure the wedding will ever happen.
Hooray to Julia for pushing Michael away.
When Nick followed Ellis out of the restaurant, did they have words? I could see Nick threatening Ellis. If it happened, too bad it was off-screen.
Outside the church was Dev about to tell Karen the truth?
After Derek's confession that "Rebecca needs his attention....," Ivy better never take him back. He is not boyfriend material.
It was a rough road for Julia and Tom, but they made up. Sam was right that they are like a married couple. They fight and they make up. The unison "I'm sorry." was touching.
The church scene was one of my favorite of the series. It was perfect to see the cast bond together through the bad times and not at a bar. "Stand" was beautifully sung by Sam and Karen. Also, a new favorite.
Carla Day is a staff writer for TV Fanatic. Follow her on Twitter and on Google+.