The Bachelorette Review: Finally, Some Drama (and Alessandro Dates His Cousins)
at . Comments
Natalie Getz is a former Bachelor contestant and the first-ever winner of Bachelor Pad.
In reviewing The Bachelorette for TV Fanatic this season, she brings her unique experience of having been on this crazy ride, as well as her spot-on commentary on the men seeking Emily Maynard's heart.
Was this week any better? Read on for Natalie's take on Episode 3 ...
---------------------------------------------
This episode really helps us better understand Emily and her life outside of TV.
Getting to know her friends' personalities and seeing her everyday life was refreshing. She deals with every situation with class and grace, which came in handy when dealing with an emotional Tony and a ridiculously bizarre Alessandro.
Let's break it down once again with some great one-liners heard throughout!
The five worst quotes heard on The Bachelorette this week:
1. Alessandro: "Being with you would be a compromise for me. Having to become a dad."
What. A. Dumbass.
2. Doug: "Emily smashed Shelley. Shelley went everywhere." 
Yikes! This just sounds awful.
3. Ryan: "I would have a problem if you got lazy and fat. I would still love you, but I wouldn't love on you as much." 
Ohhhhh Ryan! You just keep putting your big fat foot in your mouth. From putting Emily on the spot about kissing Chris on her date the previous night, to interupting girl time and telling her she better always look her best, I'm going to go ahead and give you one more episode before you are out of here, sonny. 
3. (tie) Chris: "Emily looks good in that harness. I mean, I don't think anyone else could be wearing that harness any better right now."
Uh.... what? Save those comments for her outfit or a dress. You really got off in front of the camera over Emily being in a harness to get up the.....(Oh wait, now I get it.)  Moving on...
4. Kalon: "I love it when you talk, but I wish you'd let me finish."
Kalon literally never let's Emily get a word in, so coming from him, this comment is hilarious. He is such a loser it's unbelievable. All this guy seems to care about vanity and money. UNREAL.
5. Alessandro: "Back home I had this long relationship with this girl, she is my cousin. Well, my third cousin. I've had one night stands. I'm sort of a Gypsy. I can't even take care of a pet."
Yo, take your lisp and creepy Minzillion accent and scram. I'm so happy to see this guy gone. Normally when losers stick around, at least they are making entertaining TV so I don't mind. Alessandro, on the other hand, was just super creepy. (Please refer to my first impression of him as a creepster molester hanging out in the toy section of a Walmart.) Am I right or am I right? He dated his 3rd cousin. I don't give a sh!t where you are from or if it's legal and accepted in your state or country, please take note that you are an idiot if you are sleeping with your 3rd cousin. Allow me to break this down for you. Your parents' future great, great Grandchildren will be third cousins. That ain't so far down the line their Alessandro, ya here? No get back yonder and find ya another relative to bone. Yuck. 

The five best quotes heard on The Bachelorette this week:
1. Emily: "If I saw you in a bar and didn't know who you were, I'd never talk to you."
Emily is slightly insecure, which is hilarious to me because she is nearly perfect!
2. Tony: "I miss tucking him in at night, helping him pick out his favorite book and reading with him."
This guy is a true man. What an incredibly loving father he is! I'm so impressed by men who have such kind, loving hearts like Tony. I definitely think he will find a great woman to marry. Men like this aren't meant to be single forever.
3. Emily: "I'm looking for somebody I like just as much as I love." 
When Dolly Parton asked Emily what she is looking for in a man, I think her response was perfect. Emily knows what she wants and even at her young age, she has been through so much that has made her far more mature than most. Loving your significant other isn't always enough, a friendship is just as important. 
4. Ostrich egg guy: "I was talking with your friends in the park, and they told me I need to get rid of Shelley. It's time to put Shelley to rest."
Dude not only had an Ostrich egg, but he also named it. And he named it a name that was trending in the late 70's. Wowzers.
5. Emily: "I do like tall, skinny and funny... but, I don't like tall, skinny and condescending."
This is why I love Emily. For as kind as she is, she has a backbone. She isn't afraid to speak her mind!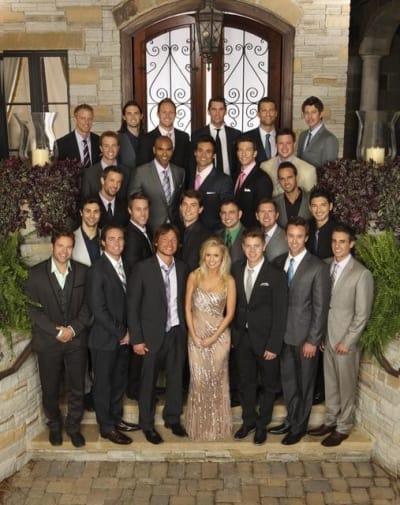 If I were choosing the guys for myself, I'd say my top three are Doug, Arie and Doug. Yup, those are the only two guys still there that I could possibly see myself with if I were single.
As far as who I would pick for Emily? Doug, Jef, Charlie or Sean.
My opinion changes every week as we see more and more of these guys. I'm keeping my fingers crossed that Emily picks a good guy and is one of the few couples in the Bachelor franchise that actually makes it.
She definitely deserves the best! I'm having so much fun watching her this season. Having met her in real life, I can tell you that she is truly a sweetheart and naturally drop dead gorgeous.
Again, I don't know why on Earth you would read this blog if you didn't watch the show, but just in case you didn't, here is a rundown:
Emily takes Chris on the fearful "heights" date where they pretty much rock climb up a tall building. Screw that. I hate heights. She thinks he is sexy so she gives him the rose.
Next she takes several boys on a group date where her friends judge them based on their personalities. Ryan makes a fool out of himself. Tony cries because he misses his son, so Emily sends him home.
Sean gets the group date rose. Next up, Arie gets a one on one date. They get to meet Dolly Parton, who happens to be Emily's favorite person on the planet besides her daughter.
Arie charms her, tells her about his love for other people's children, they make out (a lot) and Emily gives him the rose. At the rose ceremony, Arie makes out with her more as a jealous Ryan spies on them.
Alessandro announces he likes to sleep with his cousins, that he is a Gypsy, and that he can't even be responsible for a small pet. Aside from all this, he is just flat out the most disgusting, creepiest person I have ever seen. 
With this being said, Emily sends him packing before the ceremony even begins. Stevie the batmizvah party MC is sent home at the ceremony. How he made it three episodes is beyond my knowledge.