A recovered forgery, a father's dying wish and an Uncle's irreversible decision.
It's official: after only thirteen episode, we say goodbye to The Finder for good with this episode. The positive news is "The Boy With the Bucket" certainly made it worth while.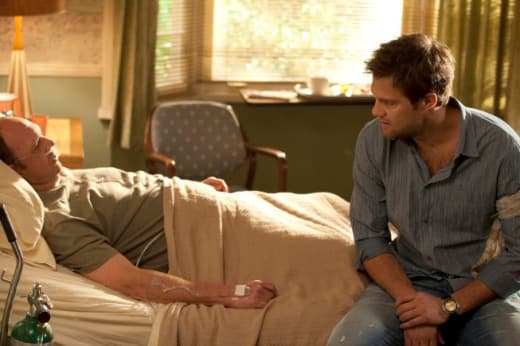 This was hands down my favorite episode of The Finder. It's a real shame that it was the last. After Fox released a list of its renewals, the world found out that this freshman show wasn't one of them.
Then it delivered a hard-hitting and emotional episode. The kind it could have been delivering every week.
Not only did we meet Walter's brother, but we learned about Walter's strained relationship with his father that stemmed from his brain injury. In the end, though, they found their way back to each other.
It would have been nice if his dad had just said he wanted to see him.
The fallout from Walter's search for his mother landed him in federal jail and Isabel lost her badge. That could have been avoided had Walter's father just been honest. I can't believe we'll never get to find out what happens next!
It was great to see Annette O'Toole back on the small screen. I know I haven't seen her anywhere that I can remember since the end of Smallville's decade run on the CW.
The same goes for Willa and Timo's story. Uncle Shad made it official, even starting sending out the invitations. It was really important to me that we find out what was so important about Willa and Timo getting married. Apparently it's because Willa is a good liar. Made you feel bad for Timo in a way. Even so, Willa struck out on her own. Where to, we'll never know.
Were you satisfied with The Finder's conclusion? Are you as saddened as I am that it won't be coming back?
C. Charles is a TV Fanatic Staff Writer. Follow her on Twitter.