Shots fired, mobsters cursed and "Voodoo Undo" made this episode of The Finder a fun hour.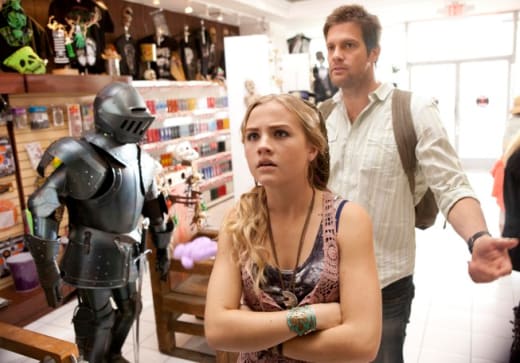 Whether you believe in voodoo or not, what was not hard to believe was its importance to the episode, especially when it came to the many ways in which it both saved and almost killed Walter.
One minute a medallion from the Scorpion witch prevents a bullet from ripping through his chest, but the next minute she's making him bleed from the wound...That's some craycray stuff!
So was the idea that a mobster could even be called a mobster with so many bad things happening to him. Mobsters usually have to be suave, sophisticated and altogether ruthless to get any real respect from me. This guy just seemed like blundering idiot.
Then again, that had to be the point, didn't it.
I was fairly surprised that Leo set this one out for as long as he did. Granted, there was some disagreement about how much this guy really deserved to be helped, but he always protects Walter.
Which he eventually realized he should have done once Walter almost got shot to death by the mobster's right-hand man.
It was an interesting and important moment shared between Leo and Isabel in the hospital hallway. I always really enjoy watching those two interact, especially in their concern for Walter. If there's one thing they can ever agree on, it's Walter's safety.
Other highlights:
Walter's Rube Goldberg machine in the backyard. Very cool way to let "the spirits" guide him to the answer.
Willa and Isabel sharing another great bonding moment in the car.
The possible return of Icepick man. He's got super-villain potential.
Are you looking forward to next week's season finale yet? Look's like we're going to get to meet some of Walter's family.
What secrets might we uncover TV Fanatics?
C. Charles is a TV Fanatic Staff Writer. Follow her on Twitter.