A romance that never blossomed. A Gubernatorial race that never took off. An uneven season for its main character.
The Good Wife remains more than just a good drama, but season three most definitely featured ups and downs. Come along with me below as I grade all we just saw and then look ahead to The Good Wife Season 4.
-------------------------------------------
Best Character: Eli Gold. Does he sometimes feel too far removed from the main action? Yes. Do I smile pretty much every time he comes on screen and especially when he grows scrunchy-faced frustrated? Heck yes.
Worst Character: Can I say Alicia Florrick? She's certainly the least entertaining character. If Eli is hilarious, and Cary is smarmy, and Kalinda is mysterious, I'm not sure what that makes Alicia. I'm a little sick of the constant reminder that she's a black-and-white person trying to navigate herself through a morally grey universe. We get it by now. It's all relative, because there are really no bad characters on The Good Wife, but Alicia got lost in the shuffle a bit this year.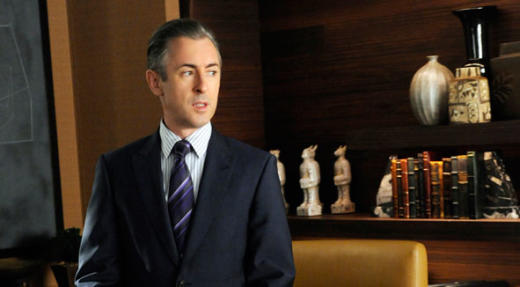 Best Episode: "Pants on Fire." Loved the portrayal of Mike Kresteva by Matthew Perry. Loved the return of the election to the forefront. Loved the concluding shot of Alicia and Peter together again.
Worst Episode: "Finding Mr. Bitcoin." Just too much technology talk and too much time spent on a case that wasn't very interest.
Best Guest Star: A tough one because no series does its guest stars better - from Jason Biggs to Michael J. Fox to Dylan Baker - but I've gotta go with Carrie Preston. Her Elsbeth Tascioni was the perfect mix of quirky intelligence when defending Will against bribery charges.
Most Underused Character: Cary. I'm hoping this changes now that he's back with the firm, and I understand Cary has always just been a supporting player. But it grew a tad irritating when David Lee was getting more screen time than our favorite former ADA.
Best Storyline: The race for Governor, hence my frustration and confusion when it was simply dropped for the final two episodes. Not even a mention of Kresteva. Very, very odd.
Worst Storyline: Anything involving Grace or Zach. Sorry, kids.
Overall Grade: B-. I really didn't care for the finale. The stories we were left with - Kalinda's husband, the firm losing its top client - seemed to come out of nowhere. There was a flow and consistency missing from the back half of the season.
Hopes for Season 4: Idris Elba as Kalinda's husband. More focus on actual politics over office politics. Alicia firmly deciding whether she's with Peter or not.
WHAT GRADE WOULD YOU GIVE SEASON 3 OF THE GOOD WIFE?
Matt Richenthal is the Editor in Chief of TV Fanatic. Follow him on Twitter and on Google+.