For the record, I know nothing about sex tapes (really, Mom). Nor am I privy to the workings of a closeted gay relationship (I promise, Honey). But I'm choosing to watch The L.A. Complex with the understanding that those behind this fun CW series have at least some idea about what they write.
Because that just makes episodes such as "Who You Know" all the more enjoyable.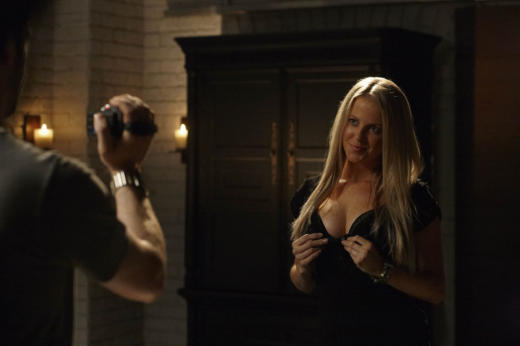 Might Kim Kardashian and Ray J have been this overt about setting up their sex tape like any regular business endeavor? It stands to strong reason, doesn't it?
And, as much as I despise a popular culture that rewards those without talent or shame, I can understand why someone in Alicia's position would be grow desperate enough to try and take advantage of it. The manager was right, wasn't he? Has a sex tape ever been bad for a person's career? Seriously... EVER?
The song and dance about how it was accidentally leaked... and is just so embarrassing... and how the Z-lister's attorneys are supposedly filing suit, it's all so comical how this nonsense is uttered by every single "celebrity" who ends up in a sex tape "scandal." And yet, it always equates to a big payday and a reality show, doesn't it? It should be fun to watch Alicia navigate such a weird world.
And that's what I like about The L.A. Complex overall: it goes there.
I can't think of any other series where a main character has engaged in a sex tape, can you? Where one lies her way into AA in order to further her acting prospects, can you? (Seriously, how awesome is Raquel?!?) Where two main, same-sex characters end an episode in a passionate embrace and wake up the next morning, side-by-side, naked?
Granted, the Kaldrick/Tariq relationship was a bit predictable this week - I didn't expect them to walk into the studio holding hands. But I still appreciate the clear risk the show is taking in pairing these two up and I'm still curious where it will go.
The only individual I really take issue with is Nick. He's just too awkward to be believable, and way too unfunny. There's no way someone with that set (can we even call it that?!?) would ever try to be a stand-up comedian. It's one thing to choke on stage (or want to be choked in bed), it's another to simply have AWFUL material and still believe this is a career for you.
Elsewhere: typical ups-but-mostly-downs of a struggling actress for Abby. I'd like to see a little more depth concerning this young woman. The show has seriously glossed over some major issues: the morning-after pill, her breakup with her Canadian boyfriend. It's sort of just coasting for now on the likability of Cassie Steele and her talkative, open personality. But I'd like to dig a bit deeper.
Finally, we all knew something was up with Connor, right? I mentioned an eating disorder last week, but it instead looks to be a... sleeping disorder? Pain disorder? Some kind of disorder, that much is certain. This is what I mean for Abby; it's a welcome change for someone who was way too one-dimensional and perfect up until now.
And even here I appreciate the winks and nods from The L.A. Complex, tossing in cheesy dialogue to the soap opera on which Connor stars. The show manages to take us behind the scenes and make fun of those scenes at the same time.
For that reason, it really does feel different from Melrose Place and a number of other primetime soap opera. But let's enjoy it in America while we can, TV Fanatics. Its ratings on The CW make it clear this drama won't be around long.
Matt Richenthal is the Editor in Chief of TV Fanatic. Follow him on Twitter and on Google+.