For a season finale that's been hyped so much in the past few weeks, "Lisa Goes Gaga" was a little underwhelming.
The series did make good use of their guest star instead of reducing her role to a small cameo. But that wasn't necessarily a good thing. The episode ended up turning into one long running gag about Gaga's eccentricities and a rehashing of all her most "shocking" moments.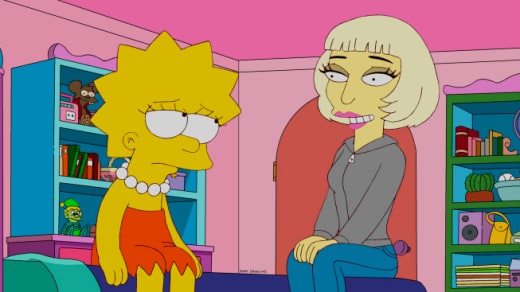 The Gaga Express is rolling through the countryside, affecting all those in its vicinity with strange side-effects like hens laying crystallized eggs. Gaga feels drawn to Springfield and its low self-esteem (since her music is all about inspiring self-confidence through gaudy shows of her own attention-seeking behavior), but she is especially moved by her odd psychic vision of Lisa in distress.
Lisa probably inspired the most sympathy from me in this episode because she actually lost the one thing she was able to retain through all the years of torment and alienation - her integrity. Her little faux pas with the school blog left her feeling hopeless, a trait that Lisa rarely displays. However, like Lisa, I wasn't sure that Gaga was the one to help her through her self-doubt.
My favorite moment was definitely when Lisa called out Gaga on her shameless self-promotion and semi-narcissitic theatricality. Her comments really zeroed in on all the criticisms of Gaga's constant performativity, especially the ridiculous heels!
The Gaga outfits were probably the only other part of the episode that was amusing. Sight gags of Gaga's hummingbird or meat dress (which Homer kept eating, of course) and the outrageously high heels really showed how comfortable Gaga must be with making fun of herself and the image she's cultivated. It was a nice little piece of satire, but it began to wear to thin towards the end of the episode.
Did you have any favorite Gaga jokes this evening?
Despite the lack of any really hilarious comedic moments, the episode did offer up some pretty funny The Simpsons quotes. I guess we'll see what next season (number 24!)holds for The Simpsons.