From complaints over Christina Aguilera, to a few truly impressive performances, season two of The Voice has offered viewers ups, downs, high notes and lows. And it comes to an end tonight.
In two hours, following Monday's final performance show, the NBC competition will crown its second winner. Seems like the perfect time for a live blog, doesn't it? Comment along with me below as The Voice names a winner and Christina tries not to alienate any more fans...
-------------------------------------------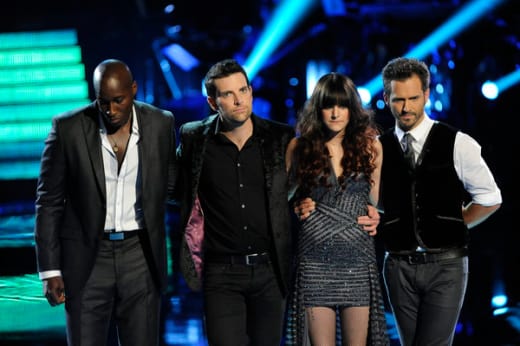 9:00 Here. We. Goooooooooo!
9:03 As we watch a recap of last night, I am reminded that I didn't like Jermaine's solo performance nearly as much as everyone else, and Christina really hates Tony Lucca.
9:06 Oh my goodness!  How many times are we going to listen these coaches wax on about how great these contestants are? We get it. They're awesome.
9:10 Jermaine Paul is hitting the stage again, and he's bringing Jamar Rogers, James Massone, and Pip with him!
9:12 With his first solo, Jamar proves he deserves to be in the finals over Jermaine. Oh, and Pip is still wearing a bow tie.
9:18 Yay! The Sprint Lounge! Wait no, I hate the Sprint Lounge. This is always so awkward, except I love when Chris Mann photo-bombs in the background like that.
9:24 It's time for some Flo Rida, joined by my girl, Juliet Simms.  Although she claims to be sick, Juliet still sounds great. Although he is a rapper by day, Flo Rida looks like he should be a member of the Grim Bastards Motorcycle Club on Sons of Anarchy.
9:29 Chris Mann takes his turn performing, and decided to bring Lindsey Pavao and Katrina Parker with him on stage. He thinks Katrina could have won this whole thing. Woulda, coulda, shoulda, Chris. She didn'ta.
9:34 Chris is really impressing me with his ability to sing something that is not opera at all. "Bittersweet Symphony" was fantastic by that trio. Lindsey is still my second favorite in the entire competition.
9:40 Can we get Alison Haislip back in the Sprint Lounge next year. Milian is killing me!
9:41 Unlike the forced relationships between other reality show judges, this Blake and Adam thing has really been fantastic on season two of The Voice. It really helps that Blake is naturally hilarious.
9:43 Hall and Oates singing "Rich Girl" with a few familiar faces as background singers. One of them looks extremely comfortable in that role. I'll give you a hint.  His name rhymes with Dermaine Fall.
9:46 So is Christina going to yell at Darrell Hall for continually calling the woman in his song a "b--"? Since she doesn't have some hidden vendetta against him, she probably won't. Poor Tony Lucca.
9:50 I will now try to restrain my outward hatred towards Christina until I hear more about what went down between her and Adam last night. Apparently it was a big deal.
9:54 Kim Yarbrough, Naia Kete, Sera Hill, and Cheesa are back in the house people. Aren't you excited? No, me neither.
9:57 Go get 'em Cheeeeeeeee-eeeeeese.
10:02 It's corporate synergy people! Everyone on Parks and Recreation watches The Voice apparently, and like most contestants this season, Leslie Knope didn't want to be on Team Cee Lo.
10:05 So it's time for The Wonder Years with Juliet, RaeLynn, Erin Willett, and Jamar. It seems like everyone wants to sing with Jamar tonight, and it's not difficult to see why. I hate that the very fabric of this show made it so he and Juliet both couldn't make it to the Finals.
10:11 Most awkward group hug ever?
10:13 I love that Blake and Adam hate Purrfect the Cat. I think they kind of missed the ball with Purrrfect in all seriousness. It was kind of just a mystery the entire time. They should have done a montage like this at the very beginning of the season, so we knew what it was all about. The cat had a much bigger presence on Twitter than it did on the actual show.
10:18 I'm not all that impressed with Lady A's new single. Honestly, none of their stuff has every been all that great to me. As one girl-two guy country bands go, I would take The Band Perry any day of the week.
10:24 If I've said it once, I've said it a thousand times, Tony Lucca is so cool! He is portraying that "cool factor" perfectly in "Go Your Own Way" with Jordis Unga.
10:32 Kenan Thompson does a quick Cee Lo impression, and Carson Daly found it necessary to remind us that it was funny... probably because it wasn't.
10:34 This Sprint Lounge stuff is some of the worst on television. I want to cover my ears. Make it stop, please!
10:44 Oh. My. Goodness. It's The Biebs! Did you see the gold shoes?
10:49 It's time for results...
10:52 Yap, yap, yap. Let's get to it Carson!
10:53 Fourth place is... Chris Mann. Why isn't Christina wearing pants?
10:54 Third place is... Tony Lucca. We are down to two.
10:55 The winner of season two of The Voice is... Jermaine Paul. Welp, that's a shame.
10:56 Congratulations to all four finalists, and Jermaine earned it with his performances last night.
10:58 Before we say goodbye, I have to commend Blake Shelton for all of his hard work to lead his team to this championship. Week in and week out, but especially leading up to this final vote, he was blowing up Twitter. I follow all four coaches, and he was at it much, much more than the other three. Good for Team Blake.
It was a very entertaining season, and a great final week for The Voice. I look forward to the new crop of performers they will bring in next year, and hope with all of my heart that they change some things.  They have to figure out what to do about Chritina Milian and/or the Sprint Lounge. It's bad. Shortening up the Battle Rounds, while extending the Live Shows would also probably help. I will be curious to see how long these superstar coaches stick around, not only because they have busy lives, but because some of them are seemingly getting on each others nerves.
What did you all think of what went down on The Voice Finale? Who were you most excited to see return?  Which guest performance was your favorite? Did America get it right with Jermaine Paul? Or do you think one of the other three deserved it more? Take our poll below, telling us who deserved to win season two of The Voice.
Dan Forcella is a TV Fanatic Staff Writer. Follow him on Twitter.