In comparison to Monday's semifinals, there was very little Christina Aguilera on tonight's The Voice Results. That made me happy, but it probably disappointed the loyal Xtina lovers, which includes many of you TV Fanatics.
With some help from the coaches, America whittled the remaining crop of hopeful artists from eight to four, preparing us for what should be an exciting finale next week. Who made it through? Who was sent home? And which former finalist returned with the best performance of the night?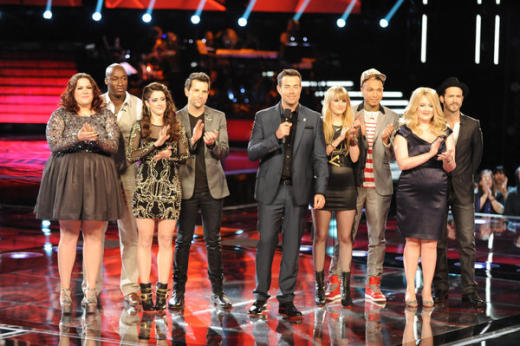 That's right. Before we got to all of the results, there were a few performances by some friendly faces. Last season's final four, Dia Frampton, Vicki Martinez, Beverly McClellan, and Javier Colon were in the house to belt out some tunes.
Dia sang with Kid Cudi, Vicki performed with her former coach Cee Lo, Beverly rocked out with Cyndi Lauper and Javier worked solo. I wasn't surprised by the fact that last year's champion was still my favorite an entire year later. Dia was also pretty solid.
Now let's move on to THIS year's performers!
Team Xtina
It was Chris Mann vs. Lindsey Pavao for a spot in the finals, and Christina decided to split it 50/50. I can't argue with wanting to leave it up to America, which ended up giving Chris 54% of the vote, and making Chris Mann victorious with 104 points to Lindsey's 96.
These two were so different, and both extremely talented, that I'm not surprised that it was so close. My choice was Lindsey, but I do not hate that Chris made his way to the championship. He should have made it through for his awesome photo-bombing skills alone.
Team Adam
This was Katrina Parker vs. Tony Lucca. Adam gave Tony a 60/40 advantage heading into America's vote. I wasn't surprised by his decision, or the fact that he took a couple hours to explain said decision. America gave Katrina 52% of the vote, but her 92 total points weren't enough to overcome Tony Lucca's 108.
That was surprising. I didn't see Katrina earning more of America's vote than Tony, and that can't bode well for him in next week's finale. I would have chosen Tony, so I'm happy to see him move on, but I am also a bit troubled by the fact that the coach's pull was the sole reason he is now in the finals.
Team Blake
The country star was given the duo of Jermaine Paul and Erin Willet and he couldn't decide between them, splitting his vote 50/50. He would have had to have given Erin a giant percentage if he really wanted her to win, because Jermaine Paul took down 73% of America's vote to finish with 123 points to Erin's 77.
I'm not so much surprised that Jermaine won by that margin, because we did see Vicki and Javier score 75 and 73, respectively, last season, but rather I'm worried that he may win this whole thing next week. I could have taken or left either one of these two, so this result didn't matter that much, but next week will be a different story.
Team Cee Lo
Finally, we were given an interesting move by one of the coaches. I definitely wasn't expecting Cee Lo to give anything other than 50/50 for his pair of Juliet Simms and Jamar Rogers. He has loved Jamar so much throughout this season that I was very surprised when he ended up favoring Juliet with a 60/40 score.  His decision didn't matter, though, because Juliet Simms also earned 61% of America's vote to finish with 121 points to Jamar's 79.
As the President of the Hypothetical Juliet Simms Fan Club, that result gets me extremely excited. Jamar won the popular vote for Team Cee Lo in the quarterfinals, so for her to have gained enough steam to beat him by 61% is a good sign. The amount of action her songs have gotten in iTunes can't hurt either.  Go Juliet!
--------------------
So there you have it people.  Next week's final will be between Chris Mann, Tony Lucca, Jermaine Paul, and Juliet Simms. Juliet is who I want to win, and if you are making me predict a winner, she would be my choice again. I believe Jermaine is her biggest competition, but he would be my fourth choice to win the second season of The Voice.
What did you all think of this week's results? Who was your favorite returning finalist? And which eliminated contestant will you miss most?
Dan Forcella is a TV Fanatic Staff Writer. Follow him on Twitter.