Viewers got a very quick glimpse of her on The Walking Dead Season 2 finale.
But now AMC has come right out and given us our first real look at Danai Gurira as Michonne, the samurai-wielding force who will play a key role on The Walking Dead Season 3 and with whom readers of the graphic novel series are very familiar.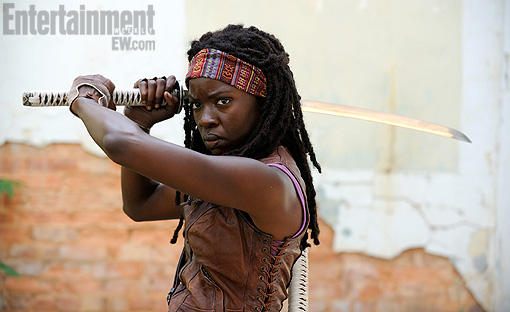 Michonne is fearless warrior in the books, and also a key ally for Rick and company. Will that remain true on screen?
"The essence of the character - her personality, her motives, everything that makes Michonne Michonne - remains intact from the comics," Robert Kirkman tells EW.
"But like a lot of things on the show, there will be little tweaks and differences here and there. We saw that her introduction is slightly different from how it was in the comic, and her interaction with Andrea is really going to be a really cool addition to the character that I think will get television viewers up to speed, and they'll get to know her a lot faster than comic book readers did."
Gurira is best known for her role on Treme, while The Walking Dead will return to AMC this fall.
Matt Richenthal is the Editor in Chief of TV Fanatic. Follow him on Twitter and on Google+.