As frustrating as I found last week's Touch was almost as much as I liked "Music of the Spheres."
Sometimes the additional storylines work for me while others fall flat. Here, Touch was firing on all cylinders, as each part of the puzzle not only seemed to fit but I also found myself caring about all of the characters.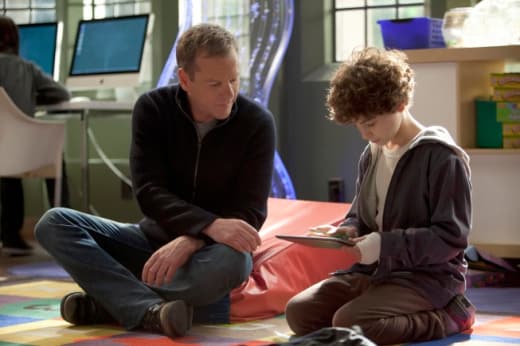 When Sheri told Marin she didn't think taking him to the park was a good idea, I wished that Marin would have asked her why. There was a specific concern she never voiced it so it was hard to tell whether she was worried for the boy or just trying to keep a tight leash on her patient.
I felt for Martin. As with any kid, the more a parent pushes, the more the child rebels. Jake was no exception. Every time Martin talked about the spelling app, Jake resisted it all the more. Martin needed to let him do it in his own time.
The gun in Jake's hand was scary. Any child with a weapon would be terrifying, but it's hard to tell if Jake had any understanding of consequences in that context.
Elsewhere, Andre's story was heart wrenching and I understood his fear. His brother was all he had and they would most certainly be separated if they were put into the system. 
I loved the sting operation to take down the probation officer. I'll admit, there was a part of me that wished we could send Jack Bauer into that office to handle it.
I even enjoyed the odd love story between Yarah and Felipe. Yarah was holding onto the cafe as the last link to her family. Little did she know she had family that needed her. I'll admit I didn't see that connection coming until the end. The instant family definitely happened quickly but sometimes life works that way.  Nothing changes until suddenly everything does.
But I had to wonder what kind of guitar Felipe had that was worth so much money. 
I thought that if Jake was going to make the connection and touch anyone it would have been Andre but I was wrong. The moment with Teller's partner was unexpected. I'm looking forward to seeing where that leads.
With Touch being picked up for a second season, it looks like we'll have plenty of time to find out how all of the threads connect.
C. Orlando is a TV Fanatic Staff Writer. Follow her on Twitter.