The end of this week's Gossip Girl, combined with the official season finale synopsis and rumors circulating online, have fans buzzing about possible developments between Dan and Serena in the season finale.
Could Dan's ex and Blair's BFF come between the couple?
There are plenty of unconfirmed reports out there regarding this, but the only thing TV Line has to say on the topic is that "Blair and Serena's friendship will be hanging by a thread when the season ends."
Or sooner than that, once S reveals her secret (see sneak peek from earlier).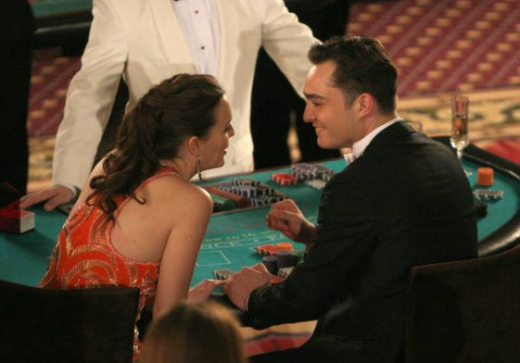 Other Gossip Girl season finale spoilers involve a recent set photo of Chuck and Blair at what looks like a casino (see above). TV Line's Michael Ausiello may be shedding light on this image when he reveals:
"Without naming the exact location, I can confirm that a portion of the finale is set overseas. I can also confirm that at least one of these characters will be traveling to the destination in question: Chuck, Serena, Blair, Dan."
The real question is which one(s), and whether it pertains to the photo above. We're sure you have plenty of theories on this matter, as well as Serena's potential role in the future of Dan and Blair.
The CW's official synopsis for "Return of the Ring" says that when Gossip Girl goes after Blair as she's never done before, Serena admits she may have unintentionally played an important role in B's latest nightmare.
It also says that by episode's end, Blair will (finally) make a choice between the two men in her life... will it be Chuck or Dan? What do you think? Vote and share your comments with us below:
Steve Marsi is the Managing Editor of TV Fanatic. Follow him on Google+ or email him here.