This will not be a very long review. I don't have much to say about Anger Management except this: I didn't laugh once. I cringed far more than I smiled, suffering through back-to-back episodes of painful jokes and obvious set-ups.
Then again, I've felt the same way every time I've watched a Two and a Half Men episode, so it's entirely possible that viewers who followed Charlie Sheen from CBS to FX are giving him a standing ovation right about now. I'd just love to hear why.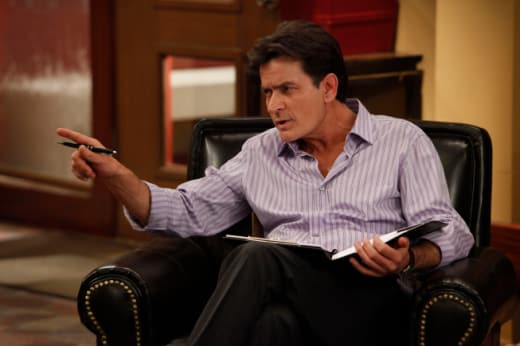 As far as comeback vehicles go, Anger Management was probably the best Sheen could do. He plays a therapist trying to come to peace with his troubled past and learn from mistakes. The character allows him to almost apologize for real-life behavior on a weekly basis.
The best thing I can say about about the series is that, aside from the opening, it didn't force any meta jokes down our throat. The premise really takes care of that on its own. I would have turned off the television if there was a single line about "Tiger's blood."
Instead, it was one generic punch line after another, most based on sex and dating, with extreme examples of over-acting from everyone in Charlie's therapy group.
It's a very odd fit on FX, whose comedy leanings to date favor more edgier, far less conventional programs such as It's Always Sunny in Philadelphia and the incredible Louie.
Again, I just can't much about this sort of show. I'm a television fan whose favorite sitcoms are Parks and Recreation, Community and 30 Rock. There's not a lot of overlap between the humor on those programs and the jokes laid out here.
So I'll use this as a forum for Sheen fans to commiserate instead: What did you think of the Anger Management premiere?
Matt Richenthal is the Editor in Chief of TV Fanatic. Follow him on Twitter and on Google+.