Apparently my bun was wound too tight, so please accept my apologies for the late posting of the review of "For Fanny."
Despite our hopes to the contrary, and the show's unique ability to keep us wondering if maybe, just maybe, Hubbell might have been in a coma, that dear man was finally pronounced...
... well, we didn't know until Fanny talked about the memorial. The bunheads themselves were afraid to utter the word, and it was left to Boo to finally say it. Dead. Hubbell was dead.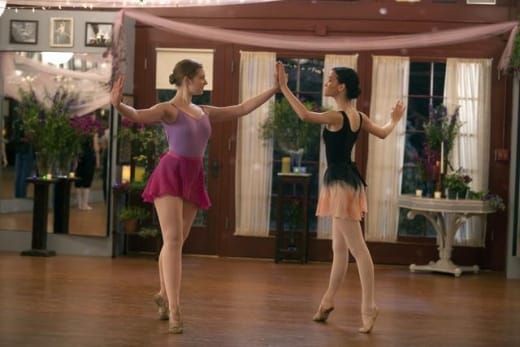 What hit me during the second airing of Bunheads was the slogan of ABC Family: A Different Kind of Family. This show, unlike any other to have reached the network so far, seems to fit that description to a T.
We have Michelle, who thought she was getting a fresh start, taking a chance at a life completely different than one she has ever known. There's Fanny, stuck with a daughter-in-law she didn't expect or want to like. There are four young girls who look to both as mentors, caring about them and each other as their own families seem unsteady and unable to provide them with the understanding they so desperately seek.
This really is a different kind of family. 
I was pleasantly surprised that the second episode continued to focus largely on the adults of the series. Known for its younger viewers, the adults in other programs on the network have been the supporting players, rather than the leads. It appears Bunheads could take the tide in a different direction. The relationship between the girls and Fanny and Michelle is rather lovely to watch. So far it has been very natural.
Sasha, Ginny, Melanie and Boo talk about them both in awe and as if they are 100-year old enigmas with secrets beyond their wildest dreams. It's fun to listen to their thoughts, imagining Michelle and Hubbell having sex, and that his losing his virginity was surely what killed him. Yep, teenagers would talk about exactly that!
Fanny spent most of her time burying her head in Buddhism and trying to score a nude sculpture of Hubbell and a tent from Ringling Brothers for a memorial service to take place on the Intrepid. In other words, she lost her mind. Totally acceptable under the circumstances, but nobody knew how to help her. Or did they?
Her students and Michelle knew one thing about Fanny that even her friends didn't understand. Her love of dance and the healing of the soul that could be achieved through that shared love. Together, they came up with the perfect memorial to Hubbell that honored his mother, a ballet recital to a Tom Waits song that Michelle found on his IPod.
I've said from the beginning (granted, it's been two weeks) that I didn't want to watch a show about ballet. So far the way they have incorporated dance into the story has been well worth it. 
The dance the girls did brought me to tears. It was perfect. The memorial was just what Hubbell would have wanted and it brought together his two favorite women, Fanny and Michelle. You could have blown Fanny over with a whisper when Hubbell's friend told her how long he had been in love with Michelle. And again when she found out he left his estate to Michelle.
Of course, we knew that would happen. It had to happen to keep Michelle in Paradise. I'm okay with some of the more trite moments, because they are leading to some genuinely lovely ones as Fanny, Michelle and their bunheads build a new kind of family. 
Carissa Pavlica is the managing editor and a staff writer for TV Fanatic. Follow her on Twitter.