Burn Notice Review: Pearcing Justice
Jim Garner at .
After last week's absence, Agent Pearce returned with both guns blazing in "Last Rites," where she was willing to throw her career away to take down the man that killed her fiancé. 
I'm glad Michael convinced Pearce to let him, Jesse and the rest of the Scooby gang help. I thought the group dynamics were interesting. You had Jesse, Pearce and Michael pulling off the act on the boat, while Sam was wrangling rookies Madeline and Nate back on the mainland.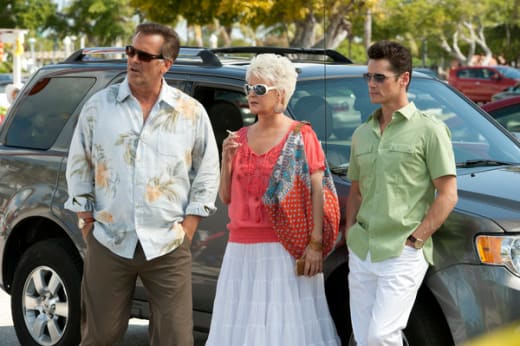 I knew Ahmed never stood a chance; the spy-power of those three was going to be way more than he would ever be able to expect. I had my concerns over Madeline and Nate helping. Actually, thinking about it, I was worried about Nate mostly. Madeline has assisted Michael so often she needs a "Junior CIA Agent" badge. But Nate? He gets a bit cocky. Just look at how he shot past the guy instead of up in the air as Sam told him. 
Thankfully it all went off without a hitch and Pearce will be able to find some closure on her fiancé's murder. Has anyone else noticed how often Jesse uses her first name? The way he was able to talk her down from the rafter and get her to finish the job without losing it was great.
Also, am I seeing things or was Pearce working and acting like Michael? Could Michael have a protege? I wonder if this means that she will trust him completely now and that any hard feelings for previous deceptions are smoothed over. 
Meanwhile in prison, with no sign of Nicole, Fiona made a new friend in the form of the smuggler Ayn. I like Ayn, she seems to be an honorable thief at this point and she has kept her word to Fiona so far. I suspect we are going to see more of her. Anyone want to take bets on how long till she's "the client" for Fiona?
But by far the most powerful scene in this episode - and so far on Burn Notice Season 6 - was Michael and Fiona's first face to face since her arrest. Jeffrey Donovan deserves recognition for this performance. Without any words you can tell how much Michael loves and misses Fiona.
While Michael and Fiona didn't have much time together, at least Fiona was able to smuggle the information she needed to him (thanks to Ayn) and now Michael is on the case to find out who is trying to kill Fiona. Things are really heating up for the summer!
Jim G. is a TV Fanatic Staff Writer. Follow him on Twitter.