Emmy Wish List: Supporting Actress in a Comedy

Dan Forcella at .
With nominations for the 2012 Emmy Awards scheduled to be announced by Nick Offerman and Kerry Washington on July 19, staff writer Dan Forcella is here to give you a quick overview of each category, his predictions for the 2012 nominations, and his Emmy Wish Lists for who ought to be on the ballot.
Categories we've previewed and predicted so far include: Lead Actor Comedy, Lead Actress Comedy, Supporting Actor Comedy.
-------------------------------------------
The Outstanding Supporting Actress in a Comedy Series field should look very familiar to Emmy fans in 2012. I'm predicting all six nominees from last year to return to the field this summer, including the 2011 champion Julie Bowen, who should be the favorite once again. Bowen will face stiff competition from the now 90-year old Betty White, and maybe Kristen Wiig for her last season on SNL.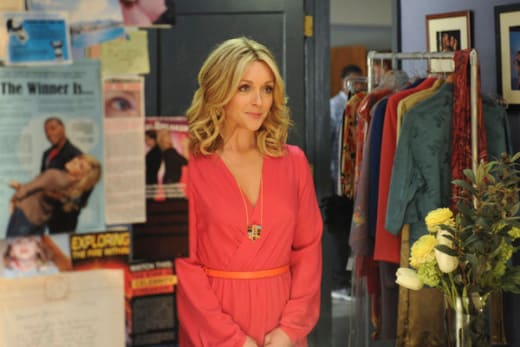 Prediction
Julie Bowen - Modern Family
Jane Krakowski - 30 Rock
Jane Lynch - Glee
Sofia Vergara - Modern Family
Betty White - Hot in Cleveland
Kristen Wiig - Saturday Night Live
Bowen's castmate on the Emmy's favorite comedy, Vergara, should also vie for the top spot. Three-time nominee Jane Krakowski and 2010 winner Jane Lynch round out the field of nominees I expect to see this July.
Emmy Wish List
Elisha Cuthbert - Happy Endings
She went from the girl most people couldn't stand watching on 24, to the girl I can't stop laughing at and with on Happy Endings.  A series riddled with female talent, Cuthbert takes the cake as the top performer on this hilarious ABC sitcom.
Gillian Jacobs - Community
She used to be the WORST, but somewhere along the lines, Gillian Jacobs turned Britta Perry into the BEST! I would give her an Emmy for the spontaneous "me so hungy" dance alone, but she also gave us a completely wonderful performance as this needing-to-be good wannabe psych specialist.
Jane Krakowski - 30 Rock
In just an average year for the series, Krakowski put forth some of her best work, especially early on. Jenna's stint as a judge on America's Kidz Got Singing, her turn as Alexis Goodlooking tracking down crimes, and playing Avery Jessup in the made for TV movie were all highlights this season.
Kaitlin Olson - It's Always Sunny in Philadelphia
Dee Reynolds gets put through the ringer with the gang on Sunny, and I'm sure it's no picnic for Kaitlin Olsen either. She continued to fight through the pain, bringing fans laughs by sending hair to a strange man on the internet, and berating Judy Greer as "Fatty Magoo."
Busy Philipps - Cougar Town
Laurie Keller's brain may be the size of a jelly bean, but Busy Phillips is brilliant at playing the dumb character. She once again gave us a stupid but loveable Laurie this season, who is nearly impossible not to be charmed by week after week.
Naya Rivera - Glee
Glee has fallen hard and fast, but Naya Rivera keeps bringing me back. Sure it might be her sheer attractiveness, but Rivera has also put forth one of the best acting performances on an otherwise intolerable show. Heck, did you see that "Smooth Criminal" number?
Now it's your turn TV Fanatics! Who would make your Emmy Wish List for Outstanding Supporting Actress in a Comedy Series?
Dan Forcella is a TV Fanatic Staff Writer. Follow him on Twitter.