Emmy Wish List: Supporting Actress in a Drama

Dan Forcella at .
With nominations for the 2012 Emmy Awards scheduled to be announced by Nick Offerman and Kerry Washington on July 19, staff writer Dan Forcella is here to give you a quick overview of each category, his predictions for the 2012 nominations, and his Emmy Wish Lists for who ought to be on the ballot.
Other categories we've covered, predicted and forecasted so far: Lead Actor Comedy, Lead Actress Comedy, Supporting Actor Comedy, Supporting Actress Comedy, Comedy Series, Lead Actor Drama, Lead Actress Drama, and Supporting Actor Drama...
-------------------------------------------
The Outstanding Supporting Actress in a Drama Series race is up for grabs, as last year's winner, Margo Martindale, won't be in contention after hitting up Justified for just one season. The surprise 2010 winner, Archie Panjabi, should be right back in the mix as a favorite, but don't count out Maggie Smith. Remember, she won last year in the miniseries category for her work on Downtown Abbey, which has made the move to series in 2012.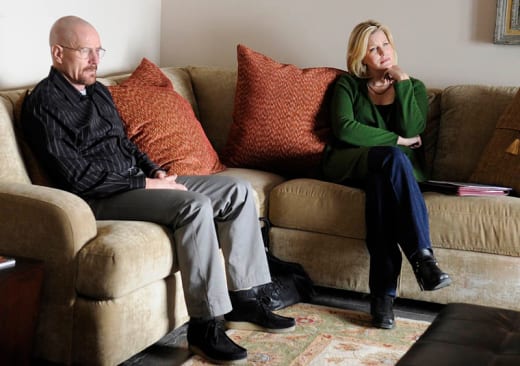 Prediction
Christine Baranski - The Good Wife
Anna Gunn - Breaking Bad
Christina Hendricks - Mad Men
Kelly Macdonald - Boardwalk Empire
Archie Panjabi - The Good Wife
Maggie Smith - Downton Abbey
Baranski, Hendricks, and Macdonald should all return to the field after falling to Martindale in 2011, and I'm calling for Anna Gunn to make the jump towards a nomination, taking the place of Michelle Forbes. I'm assuming - and hoping - that The Killing is now off of the Academy's radar, as it bored me to tears throughout all of season one, and the beginning of season two, before I finally quit it.
Emmy Wish List
Bethany Joy Galeotti - One Tree Hill
I know there's no way Bethany Joy gets a nom, but she makes my wish list for nine seasons of great work. A show that was much too soapy most of the time to be recognized, Galeotti put forth some of her best work in this spring's final season of One Tree Hill.
Lauren Graham - Parenthood
I never watch Gilmore Girls, so I don't have anything to compare Graham's performance to, but it's not difficult to say that she has been terrific on Parenthood.  She creates a character that is so agitating to the other characters but so warm to the viewers, and that's tough to do.
Anna Gunn - Breaking Bad
You might think playing opposite arguably the best actor on TV would be easy, but to even make a mark on the audience when Bryan Cranston is chewing up so much of the screen is a feat in and of itself. Gunn did more than that this season, and she deserves to rewarded for her efforts.
Lena Headey - Game of Thrones
People can hate Cersei Lannister all they want, but Lena Headey is churning out some fantastic work on Game of Thrones. She may have been even better in season two, as Cersei had some serious emotional scenes with both Tyrion and Sansa.
Lana Parilla - Once Upon a Time
Another actress with the difficult task of playing a character who the audience will inevitably hate, Parilla created a truly "evil" mayor/queen that was hard to not want to see more of. Whether it was doing everything she could to harm Emma, or trying to save the relationship with her son, Regina Mills was a great one to watch.
Deborah Ann Woll - True Blood
It's hard not to take the early part of this summer's action into account, but if I try to forget that Kristin Bauer van Straten is murdering this season of True Blood, than I can say that Woll was the best thing about the series over the course of 2011-12.  
Now it's your turn, TV Fanatics. Who would make your Emmy Wish List for Outstanding Supporting Actress in a Drama Series? 
Dan Forcella is a TV Fanatic Staff Writer. Follow him on Twitter.