Franklin & Bash features one of the most incredible bromances on TV. 
Breckin Meyer and Mark-Paul Gosselaar are so damned adorable I can barely control myself. Add to it that the show is fast, funny, has an underlying sweetness and is just smart enough to hold my interest and Franklin & Bash is turning out to be my top guilty pleasure of the summer.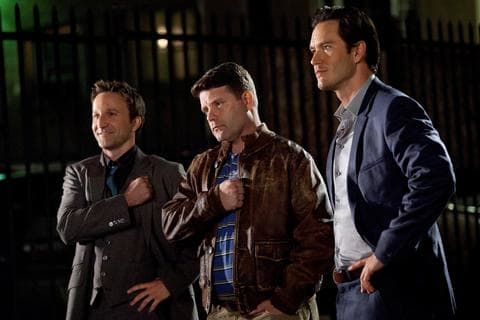 As much as I enjoyed last week's season premiere, "Viper" - with Sean Astin guest starring in the title role - may be one of my favorite episodes so far.
Superhero wannabes. Not only did Peter and Jared's crime fighting defendant wear a cape, he came with his own team of superheroes. My favorite was the guy in the pink camo and backpack who tries to rescue drunken woman from men in bars. "Step away from the sleaze, young lady." 
They should have that saying in neon over bars everywhere.
Poor Jared had to break Viper's heart in order to save him. But he actually did leap a tall building... or at least from one tall building to another. That's something.
Mommy's home. Well, she's out of a home and looking to crash with the boys. How cute was it that she calls Jared Jarry Bear?
So Peter has the cool mom. Cool, daffy, insane? A mom with absolutely no boundaries who may have slept with Damien. Of course, he did get Colleen her house back by using an old law that gives cows the right of way. That much creativity certainly deserved a reward.
And can you name any other mother who sends a text to set up a booty call for her son? Insanity has its perks.
New romance vs. old. Speaking of that booty call, things seemed to be going well with Officer Wendy. I really like these two together. They were cute and hot and sexy all at the same time. That's hard to pull off.
But now that Peter's ex, Janie, has called off her engagement will he go back for more? I hope not. Although I like Janie and thought last season's love struck Peter was cute, I also got the feeling she always wanted Peter to change. That's never a good foundation for a relationship. 
Besides, I'm enjoying watching Peter and Wendy have their fun.
Who's stalking whom? Pindar tracks down Megan and I don't think it could have been any funnier. When he accosted her on the street I couldn't blame her for running.
I don't think I'd ever accept a Facebook friend request again after that and then I'd look into a restraining order. 
Which apparently Megan is well-versed in because she has one out against her. I was wondering where they were going with Pindar's issues this season but if we get to watch him and crazy Megan go through some new age therapy together this could be a lot of fun.
So, are you rooting for Peter to go after Janie or stick with Wendy? And shouldn't Jared have his own love interest, too? He's too darn cute to be alone. 
What I may love best about Franklin & Bash is that behind the innuendo-laced dialogue and fancy suits, these two are just geeky fan boys at heart. I can't wait to see what trouble they get into next.
C. Orlando is a TV Fanatic Staff Writer. Follow her on Twitter.