This is likely my final review of Longmire.
I'll try to find another TV Fanatic writer to take over future episodes, but "The Cancer" was plagued with the same problem that has negatively affected this A&E drama since a decent premiere: it's simply too much of a procedural for my taste.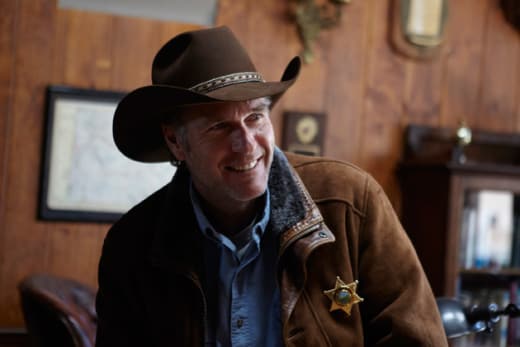 Replace Wyoming with the streets of Las Vegas and there isn't much difference between Longmire and CSI.
Instead of technology, the latter relies on Walt's experience and instincts, but the focus on a weekly case and the set-up of each installment remains the same. Here, we opened with a fisherman discovering two bodies and it eventually led to more interactions between Walt and a reluctant-to-chat Mathias... but we don't have any more background on this relationship than we had weeks ago.
The presence of the reservation and the Cheyenne ought to make Longmire stand out, but so far each has served as just a slight obstacle in the occasional investigation.
I'd be more invested in the series if maybe we met more residents on the reservation and understood life there. Or if Vic served more of a role than just the outspoken sidekick. Or if the race for sheriff heated up between Branch and Walt.
However, Longmire has been pretty much all Walt Longmire all the time since the beginning, and I just don't find him to be an especially engaging character. He's almost too good of a detective (wasn't he meant to be rusty? Isn't that why Branch is running against him?) and the death of his wife hasn't really played a role aside from setting Walt up as a sullen, sympathetic individual.
We learned this week that Mrs. Longmire died from cancer. It's certainly a sad situation, but it's not an original one and Walt's link between that awful disease and the pot-growing examples of the case were a bit heavy-handed. I rolled my eyes when he talked of each "spreading," probably not the reaction the series was going for.
This is also the second time in just four episodes where the main culprit turned out to be a supposed good guy who had been helping with the investigation. I'm already sick of the pattern.
So I'm tapping out. Longmire is not a bad show by any means; the acting is strong, the setting is beautiful. Without any kind of serialized aspect, though, it's the sort of Case-of-the-Week series that simply can't hold my attention.
Matt Richenthal is the Editor in Chief of TV Fanatic. Follow him on Twitter and on Google+.