Rookie Blue Exclusive: Enuka Okuma on Traci Tackling New Challenges

Christine Orlando at .
Rookie Blue has been renewed for a fourth season.
But Traci Nash is too focused to celebrate this exciting news. The officer kicks off her first day as a detective on tomorrow night's new episode, and actress Enuka Okuma is here to preview what's ahead for Traci, including upcoming challenges and wardrobe issues...
-------------------------------------------
In "Girls Night Out" it looks like Traci is finally getting her own major story arc. Can you tell us a little about that?

Enuka: I think it's been really interesting what's happened with the writers. I guess because it's been three years on the air, that they're starting to spread the story lines out a little bit. It's becoming quite an ensemble show. Yeah, it was exciting to have my own story line and you'll see that with other characters as well this year. It was great. It was fun.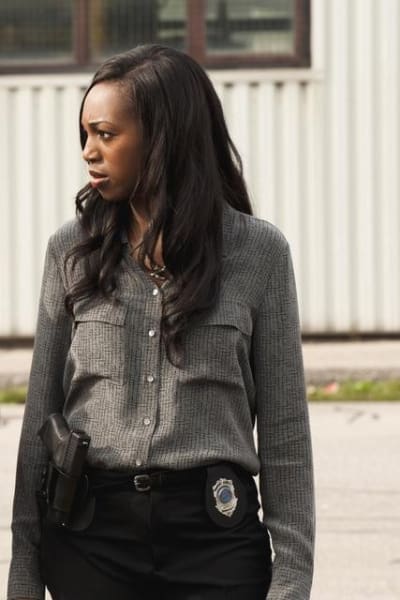 Will moving up to detective change her relationship with Jerry? He seems a little hesitant with her new detective in training status.
Enuka: Yeah, I mean it's a whole new bag of challenges. What was great about it was being a rookie all over again. Technically you're a rookie for about five years on the police force. This was a whole new set of rookie rules to learn and on top of it you've got her friction with Jerry. There not equals on the job but certainly more on the same level and that's not easy for Jerry, necessarily. It's not easy for Traci either. So there's more tension and there's more stuff to fight about. (Laughs)
Will there be more of Traci juggling this new job with being a mom and will we be seeing Leo this season?
Enuka: We're focusing a lot more on Traci at work. That's always been her struggle, trying to be a mom as well but we're focusing more this year on her struggles in this new position. It's still hard. It's a whole other set of problems. 
Have you preferred playing a uniformed officer or a detective?
Eunka: Oh, that's hard. That's really hard. One thing I can tell you is that I prefer my wardrobe as the detective. (Laughs) Trying to run with that belt full of stuff is just not easy. All of us girls are always trying to sneak in some nail polish or extra mascara just to feel a little more girly. The other cast members are a little jealous that I didn't have to wear (the uniform) as much this year.
Speaking of the rest of the Rookie Blue cast, you all appear to have such great chemistry. Are you friends off screen or is that good acting we're witnessing?
Enuka: No, it's actually very, very, true. We get along extremely well. Greg Smith (Dov) and Travis Milne (Chris) are roommates in real life. All of us are very, very close and we have a really good time together. It's mayhem for the crew when we're all on the set at the same time because we never shut up. We're very loud because we're cracking jokes all the time. Work days take extra long because we're goofing off. Yes, it's real chemistry.
Anything more you can share with us about this upcoming episode?
Enuka: It was really fun to play because of all the new challenges. The coolest thing about it for me is that at the heart of our show the rookies have got each others backs. They support each other and that's very evident as Traci goes out on her own. Those other four are right there for her in this episode and it's great. 
C. Orlando is a TV Fanatic Staff Writer. Follow her on Twitter.