"A Good Shoot" gave actor Gregory Smith the chance to deliver an outstanding performance, as his character, Dov Epstein, went from feeling on top of the world to being plagued by doubts in a matter of minutes.
When earlier this week Smith shared in this exclusive interview with TV Fanatic that this week's case "completely shatters" Dov's existence, he wasn't kidding. Dov walked into that convenience store thinking he had the career he'd always wanted - plus a beautiful girlfriend to go home to. His only worry was whether or not he could track down fresh licorice behind that counter.
What he found in that store changed everything.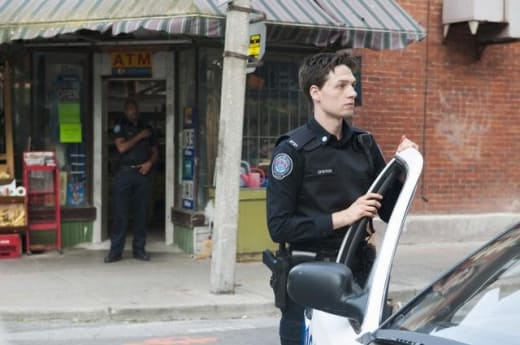 To be honest, I couldn't be sure that Tyler was holding a gun when I first watched that scene. I thought he was but it all happened so fast that it could have been any dark object in his hand. As Jerry said in this Rookie Blue quote:
It could have been a gun in the kid's hand but it could have been a phone. It could have been nothing. | permalink
Of course I hit rewind and played the scene in slow motion to confirm it was a gun but real life doesn't come equipped with a Tivo playback.
Smith did a wonderful job of conveying Dov's emotions, not in words but in expressions. The fear as he realized what he'd walked in on, the haunted look in his eyes after he shot that kid, the panic when he doubted what he thought he remembered... it all played out across his face.
I completely understood why even Dov himself became confused. He had mere seconds to observe and make a life or death decision, followed by hours of being questioned and disbelieved. It was enough to shatter anyone's confidence in what they'd witnessed.
One of the highlights of the episode was the way the team rallied around Dov. From trying to prepare him for the SIU investigation that was to come or tirelessly searching for the facts that would clear him, in one way or the other they all had his back.
On the lighter side we were treated to Sam and a barefoot Andy, who were simply adorable as they bantered back and forth in the car. I loved the way Sam completely supported her belief in humanity, even though he didn't always share it.  Still, he encouraged her with each step she took in the investigation.
It was wonderful to see these two finally looking so happy and it did my shipper heart good to see them smiling and holding hands as they left the station.
Not to be outdone, the bromance between Chris and Dov appeared to be back on track and it was good to see. I've missed these two best friends since their fall out last season.
And in some final notes…
Great to see Traci get her rotation with the detectives. She's earned it but did Jerry seem a little hesitant to have her on board?
I'm really not feeling this romance with Peck and Collins.  It seems forced and lacks chemistry.
As much as I love seeing Noelle on the street, I was happy that she chose to protect herself and the baby. Of course being desk bound will drive her crazy but that might be half the fun.
So did you see the gun the first time you watched that scene? Am I reading something into Jerry's reaction that isn't there? And are all of you SAndy shippers finally happy? 
C. Orlando is a TV Fanatic Staff Writer. Follow her on Twitter.