The return of Hardman, a blocked merger, an angry girlfriend and having your former best friend rat you out to one of your bosses and cost you your job?
Yeah, that's Mike's life alright, and it all came crashing down on him on the Suits season 2 premiere, "She Knows."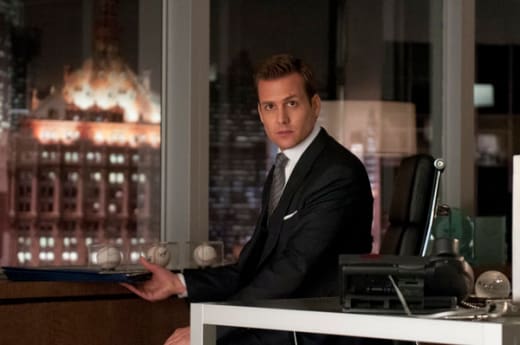 I almost thought that Jessica Hardman had bought into Mike' s story that he was "not like the other kids." But I have to give her credit for not only seeing right through it, but calling Harvey out on it directly.
I do believe there was at least one portion of Mike's tale that was completely and utterly true, and that was his reason for choosing law. It was about time we learned what led to the untimely and tragic death of Mike's beloved parents. Who knew they died at the hands of a drunk driver, and that Mike was aware they had a case against the restaurant that provided "Mr. Fenton" with the alcohol impairment that led to the accident? That was some really powerful stuff.
In the meantime, with the deceit exposed, Jessica really had no choice but to confront Harvey. Mike wasn't supposed to be there in the first place, and Harvey knew it. Giving Harvey the benefit of the doubt was perhaps her first mistake. She should have determined that he would see the opportunity and run with it.
Speaking of opportunities, it was clear after Mike met with Jessica that he had gotten off too easily, and oh how wrong he was! I was a little disappointed at his haughtiness, but the world certainly came crashing down on him when Jenny exposed that Trevor had ratted him out. His whole countenance changed.
What I didn't expect, however, was Jessica seeing a threat much bigger than even Mike's job at the firm in Daniel Hardman, the as yet unseen second partner at the firm. Now we've seen his face, heard his pitch to get back in with the firm and been exposed enough to wonder just how crazy and diabolical this man may potentially be.
More importantly, it seems that Harvey didn't exactly seal the deal to save Mike's job, which means it's still in limbo. Then again, Mike is the one thing that can bring both Jessica and Harvey down in a single fell swoop, and it may be a more permanent break than it appears at first glance.
Great moments this episode:
Harvey and Donna having a pow-wow over what to do about Mike.
Donna knowing what was going down simply from Harvey's appearance.
Donna and Rachel having girl-chat time in the bathroom.
Donna turning the speaker off because she couldn't bear to listen to Mike getting fired.
Mike visiting his nana and eating cookies from the Eisenhower administration.
TV Fanatics and Suitors alike, we are in for the sexy, smart and sophisticated summer season we've all been waiting for!
C. Charles is a TV Fanatic Staff Writer. Follow her on Twitter.