Secret Life of the American Teenager Review: Sounding Better Than Lies
Leigh Raines at .
Last week's episode of The Secret Life of the American Teenager brought us an epic moment several seasons in the making: Amy and Ricky eloped!
On "Shotgun," meanwhile, they prepare to head home and face everyone's reactions, most of all the three mothers.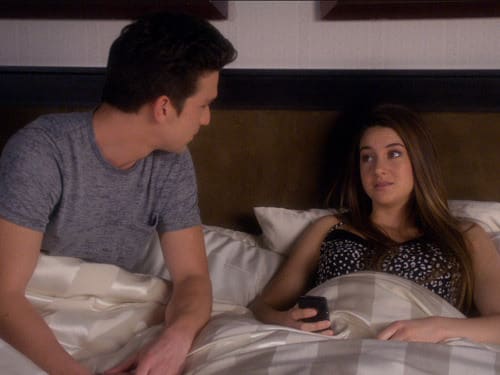 The above photo is of Amy trying to delay the inevitable end of their honeymoon night and I don't blame her! She pointed out to Ricky that they've always had people in their business and influencing their decisions and I agree. I know that George was somewhat a part of this choice, but ultimately it was up to Amy and Ricky to decide whether or not they were going to tie the knot. George just offered his support.
Granted, I don't have any of my own children, but I can understand that the three mothers would want to be there for the wedding. At the same time, there is so much emphasis on the wedding and that's really just not the most important part. I like how George was supportive about them eloping, but he really just wanted Ricky to "make an honest woman" out of Amy. A marriage certificate is not a magic potion to secure future happiness.
There is a big difference between what people say on this show and how they act. Actions always speak louder than words.
Suddenly Grace is turning to religion again because she is trying to repent for what she feels are sins and to be a better person. How is dumping your best friend who loves and cares for you making you a better person? She's hurting her loved ones and, sadly, it's just a band aid. She is still going to gossip and be who she is and it's only a matter of time before she sleeps with Jack or some other guy again.
I felt bad for him before. But when I realized that Jack knew he was getting played by Dylan's friend and went along with it just to get laid I stopped giving a crap. He is trading gossip for sex! Blame teenage hormones if you want, but Jack is so whipped! It doesn't matter who the girl is, he totally has no backbone.
Dylan and her friends are pretty manipulative and I'm glad that Leo can see that. Was Dylan's dad kidding trying to talk to Leo like that? News flash, this is Bobby Bacala, you don't try and pull a fast one on the guy who was in one of the most famous crime families on all of television. Dylan's parents are the only people who annoy me more than she does.
Just look how Ben is reacting from all the stress! He fainted and went to the hospital! I have it on pretty good authority that all Ben experienced was a really bad panic attack, but that's not to say that it's not very scary and very real. Ben needs to come clean and just be honest with himself before he makes himself sick with stress. 
It's interesting that the person who seems the most mature and calm out of all these teenagers is the one who is painstakingly honest, Ashley. You all know that most of the time I don't even like Ashley, but she seems to be pretty happy with her boyfriend, she's graduating early and now she has acceptance to a school in Italy! 
What did you all think of this week's episode? Hit the comments!