Sex between siblings. The devouring of werewolf intestines. Super snatches, erection-like fangs and countless storylines rotating around so many times in the course of an hour that one's head spins like a Maenad.
Oh, yes, True Blood is back.
The Season 5 premiere returned us to the night of the True Blood Season 4 finale, giving us an idea of what everyone was up to just as Tara was shot and in the 24 hours following that thankful tragic event. Aside from discovering that Eric could make an incredible living as a maid, what did we learn?
That True Blood has way too many characters and spends far too long trying to service each one. Do we really need to bring Terry into the forefront? Or give Andy his own arc? There's always a lot going down in Bon Temps, but "Turn, Turn, Turn" may have upped the action-packed ante a bit too much. Let's rundown each storyline below, from most interesting to most WTH....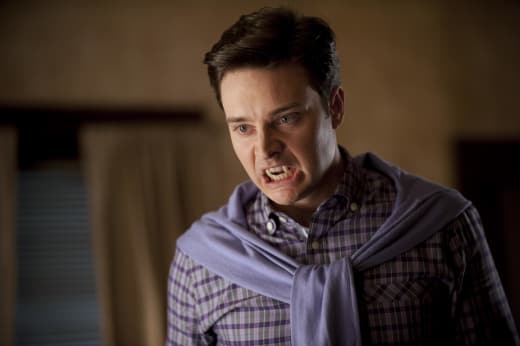 The Adventures of Marcellus and Ike: Taking Eric and Bill away from Sookie and teaming up these one-time rivals was easily the best decision the show could have made. Their interactions now feel fresh and funny.
Add into this partnership Eric's championship-banging "sister," the impending introduction of The Authority, the factions apparently rising up within that council and my interest is very much piqued.
The Return of Russell: Granted, this didn't actually happen. And it feels a bit random overall, as if the show simply couldn't let go of Denis O'Hare. But can you blame it? That guy rules! The storyline opens up the question of who dug Russell up and it will simply give us more Russell. That's always a good thing.
Jason and Jessica: I guess I should throw gay American vampire Steve Newlin in here, too. Did he only come back to give Jessica an excuse for coming to Jason's rescue in all her scantily-clad glory? I'm not really complaining if so (see glory, scantily-clad for the reason why). The party and the dueling near hook-ups felt like a bit of a contrived way to drag out the Jason and Jessica romance, but whatever. Jessica is downright awesome.
Hungry Like the Werewolves: Noble Sam can be a bit tiresome, but at least he's now intertwined with an angry pack. An angry pack who apparently enjoys feasting on the remains of their master. To quote Summer Roberts: Ewww.
But one of the appeals of True Blood to me is going inside these various supernatural sects. I thought it was cool that Martha said there's a ceremony for dealing with the dead. I'm now curious to find out what else goes on within a pack and I also love me some Alcide. There's potential here.
The Turning of Tara: I've got multiple reasons for not thinking much of this development:
It was obvious the moment HBO announced the premiere title of "Turn, Turn, Turn."
Moreover, the exact ending was obvious the moment Tara's body was placed inside the grave.
The turning of a human into a vampire is done on every supernatural franchise at this point, and True Blood simply has bad timing: we've just seen this it on The Twilight Saga (ummm... or so I heard) and The Vampire Diaries.
It's safe to assume Tara will now be quite angry over being forced to transition into what she hates. But Tara is always quite angry. She may be a lot more dangerous now, but I don't foresee any major character transformation going forward.
The one positive, as always? Pam, in all her Walmart sweatshirt-wearing hilarity. She's anything but f-cktarded.
Where Would Jesus Go? I don't care. Lafayette is a fun character, but the witchcraft from last season was really out there and really random. Yes, even for True Blood. There was just no real sense or direction to it.
Dirty Andy: I really don't care. Andy Bellefleur is the epitome of a perfect supporting player. He's now dating Holly? Taking a bribe from a judge? Okay. Great. Whatever. Please don't waste our time by making this a central storyline.
They Didn't Start the Fire: Sorry, Terry. I know you've been through a lot and I'm sorry for the whole PTSD thing. But I didn't wait months for this show's return so I could delve into your backstory. Even if it does involve Scott Foley, an actor pretty much everyone on the planet adores.
I think I covered them all. I obviously don't watch True Blood for any kind of realism, but all shows require a sense of flow or continuity. It was hard to feel either on this episode. It suffered from Game of Thrones-itits, jumping from one story to another and not giving viewers any specific idea of what lies ahead this season.
I'll be along for the ride, don't get me wrong. I'm not going all Lafayette here and claiming I'm done with all this "supernatural bullsh-t."
There are always enough witty True Blood quotes, sex, nudity, gore and all-around fun ridiculousness to keep me entertained. But it's hard to argue that the show is all over the place right now, isn't it?
What did you think of the season five opener? And which storyline has you most excited?
Matt Richenthal is the Editor in Chief of TV Fanatic. Follow him on Twitter and on Google+.