From revived best friends to naked werewolves, shady fire stories to championship caliber sibling sex, the True Blood Season 5 premiere packed an awful lot into one hour of television.
Which storylines hit? Which can we already tell are misses? The TV Fanatic Round Table team of Matt Richenthal, Chris O'Hara, Leigh Raines and Jim Garner answers that question and many others related to "Turn, Turn, Turn" right here and now...
-------------------------------------------
What was your favorite scene from the premiere?
Matt: The quick snippet of Russell Edington eating off screen. It raises the question of who was feeding him those bodies/who dug him up; and it means we'll soon be seeing Russell Edington! That guy rules.
Chris: I have to give the whole series of events at Jason's house my vote. Reverend Newlin showing up at Jason's door and attempting to glamor his way through the back door of Jason's stacked house was comical. Loved the "I love you" the Rev yelled while being forced out after Jason rescinded his invitation. Jason was amazing as usual, whether it was while trying to hide behind the door to saying fangs are akin to twin hard-ons. If Jason playing altar boy was what it took to produce Jessica in her red cape than so be it. I'd expect Jason to take communion six days a week and twice on Sunday if it meant more scenes of Ms. Woll in that outfit.
Leigh: I really don't want to copy Chris' answer, even though the whole scene at Jason's house was awesome. Between Steve Newlin proclaiming he's a "gay vampire American" and Jessica proclaiming "Jason is mine" that was all around perfection. But for the sake of variety, I'll go with my favorite scene being Pam in the yellow Wal-Mart sweatsuit mouthing off to Sookie and Laff.
Jim: I agree with Chris that the Jason/Jessica/Steve scene was pretty good. But I couldn't stop laughing at Eric doing a speed clean on Bill's office while Bill casually left Jessica a voice mail. If Eric starts his own cleaning service I might have to sign up!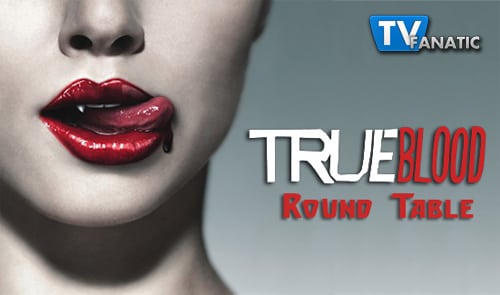 Which storyline has you most excited? Least excited?
Matt: Bill and Eric are the obvious first answer here. The love triangle with Sookie had grown more tiresome than the search for A on Pretty Little Liars, so it's refreshing to see these two on their own adventures, creating explosions and banging their fake sisters and everything. I'm least excited for... almost everything else. Nothing particularly grabbed me.
Chris: The emergence of the Authority as a major storyline is going to be awesome. The previews of Christopher Meloni have had me hooked since they first were released. Least exciting in my opinion has to be the Terry Bellefleur storyline with his marine corps buddy in town investigating who has been playing Firestarter. I hope this scenario is given minimal screen time. The same can be said of any future shots of Sheriff Andy's backside.
Leigh: I'm pretty curious about the werewolves this season. They are way darker than I could have imagined... you know with that whole intestine eating bit. It seems as if there is some real tradition in the packs and Alcide manning up and admitting he killed Marcus is going to lead to a whole lot of drama. Least excited: the cousins Bellefleur and their respective storylines.
Jim: I'm most excited to see Bill and Eric as the dynamic duo. The last four seasons they have been trying to out do each other for Sookie, so it will be interesting to see them interact without her at the center. Least excited? As Leigh said, the Bellefleurs; nothing about either of them really drives me to want to watch.
Are you glad Tara is alive?
Matt: No. Not at all. Not remotely. Not even a little bit. This show simply has to start killing off key characters if it wants to maintain any sort of edge, and who better to start with than Sookie's irritating, one-note BFF?
Chris: Of course I'm glad Tara is alive. I think it will be interesting to see how her relationship with Sookie changes and also what happens when Pam takes up her role as Tara's maker.
Leigh: Well, she's not exactly alive now, is she? Tara has spent four seasons bitching about how much she hates vampires and now she's become the one thing that she hates the most. Plus, she has an insanely hilarious and all around bad ass maker. This might make Tara a lot more interesting.
Jim: First, I so called it! I'm not sure Tara is completely alive (yet), but it will be interesting to see how she reacts to her newfound status as an undead-American.
Which couple are you rooting for the hardest: Jason and Jessica, Andy and Holly, Jason and Steve or Alcide and Sookie?
Matt: Jason and Steve. You heard the (well-sculpted) man himself during the premiere: he's an asshole when it comes to women. So maybe Jason should try his luck with a certain sweater-wearing religious man who just wanted to be loved.
Chris: Jason and Jessica without a doubt. With Jason passing on going home with coed Cammy and her flatter than thou stomach, he better be getting back together with our resident redhead.
Leigh: Jason and Jessica. Sookie and Alcide are a given. But Jessica is going to give Jason a run for his money and I can't wait to see how it turns out!
Jim: Jason and Jessica all the way! Jessica, dressed as Little Red Riding Hood and declaring that Jason was hers made the wait from September totally worth it!
Are you better at Guitar Hero or Quarters?
Matt: Jenga.
Chris: I would have to say Quarters, although I would do my best to jam away on the wireless Fender Stratocaster till my fingers bled if it meant getting to watch Jessica, on lead vocals, dance in front of the TV like that.
Leigh: Surprisingly, Guitar Hero. But my real specialty is the drums on Rock Band.
Jim: I'm not nearly as talented as Jessica at either. But between the two, I usually fair better at Guitar Hero, though I've never tried to play both in the same night.