Will Mark Sloan become the latest victim of a tragic plane crash when Grey's Anatomy Season 9 begins in September? It seems unlikely, but certainly not impossible, given what we know.
Or more accurately, what we don't.
Consider what Shonda Rhimes said right after the Season 8 finale claimed the life of Chyler Leigh's character and left the fates of others up in the air: "They're still out there in the forest."
"We left it open for a reason because ... I hate to say this, but just because you saw people alive at the end of the finale doesn't mean they're going to be alive when the season starts up."
Then consider this latest unsettling teaser, from TV Guide's William Keck in response to a fan question on Twitter. Eric Dane himself is apparently unsure of his character's fate ...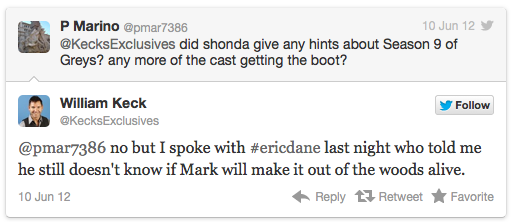 Dane is not one of the original stars who agreed to new contracts, for what that's worth, and the show losing Mark on top of Lexie would make for its most talked-about season premiere yet.
Still feels like a stretch, though ... Eric not knowing could be as simple as not wanting to say what he doesn't know for sure, or playing coy for the sake of keeping the mystery alive this summer.
What do you think? Will he and the rest of the doctors in the woods make it?
Steve Marsi is the Managing Editor of TV Fanatic. Follow him on Google+ or email him here.