The cast and crew of Beauty and the Beast, led by stars Kristin Kreuk and Jay Ryan, invaded Comic-Con yesterday for a panel discussion with fans that proceeded a screening of the series premiere.
What can viewers expect from a series that has landed the post-Vampire Diaries time slot of Thursdays at 9 p.m. this fall? Less supernatural business than you might assume.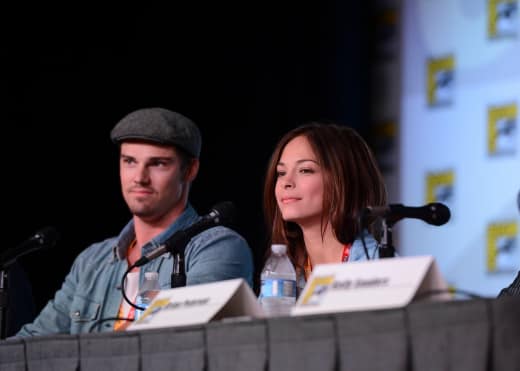 "We weren't interested in a supernatural creature," co-creator Jennifer Levin said. "We were interested in a beast that we experienced in our lives."
Along similar lines, co-creator Sherri Cooper added that Beauty and the Beast will certainly have its share of action - the pilot featured a pair of attack scenes by the beast, although they are viewed from Kreuk's perspective and are therefore quick and blurry - won't be all about "twists and turns," but instead:
"What is emotionally going on with our characters."
Kreuk portrays Catherine Chandler on the series, a NYPD detective whose mother was killed nine years ago and whose life was saved by a mysterious creature. What was the transition to this character like, versus her beloved role of Lana on Smallville?
"At the end of Smallville, I felt like Lana was incredibly strong, really came into her own," the actress said. "So it's cool because I get to start with Catherine. She's got a certain strength and she's also emotionally restricted in a way that Lana wasn't. It's a really good flip for me."
We'll give Levin the final word on one of the CW's more promising new programs:
"There's so many ingredients - romance, mythology, and the procedural element. We're trying to figure out the right balance of those things. The pilot was quite dark."
Beauty and the Beast premieres on October 11.
Matt Richenthal is the Editor in Chief of TV Fanatic. Follow him on Twitter and on Google+.