Booth and Brennan became a couple, co-habitated, endured the challenges of pregnancy, saw their lives intertwine like never before and welcomed a child in Bones Season 7. Not bad for 13 episodes.
Their biggest challenge for the duo may lie ahead, though.
After Brennan was framed for murder by Christopher Pelant in the season finale, she high-tailed it out of town with baby Christine and father Max, feeling that she had little choice but to abandon Booth.
Whatever her motives, how he reacts is an open question.
In an interview with TV Guide, executive producer Stephen Nathan weighs in on what lies ahead for the show's central couple, as well as numerous other Season 8 developments. Excerpts below!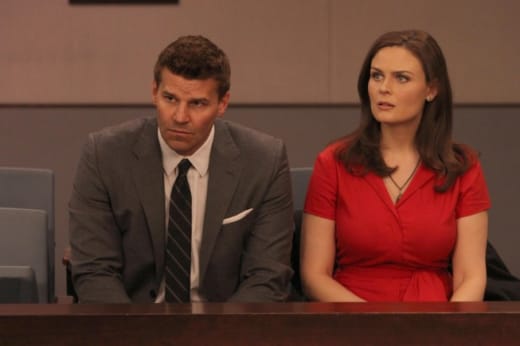 On the cliffhanger: "Every season, we build to a conclusion that hopefully is going to propel us into the next season with fans either very excited or really pissed off. Both outcomes are usually good."
"It's hard to top 'I'm going to have your baby,' so we had to figure out something that was going to really exploit this new relationship that they have and the new family that they have, as well as really get our show back on track as a murder show. This kind of gave us the best of both worlds."
"We've managed to explode the FBI, the Jeffersonian, Booth and Brennan, and their relationships with all of their friends. It's certainly a good place to start putting the pieces back together again [in Season 8].
On Booth's reaction: "He's furious. [He thinks], 'Wasn't there some way that she could include him? Why didn't she trust him with that information?' Still, from a practical standpoint, [Booth knows] Max was right."
"[Brennan leaving] was the only logical thing she could do. Booth has to work within the system. We wanted Booth to remain a good man, to be the man he wanted to be for his daughter and for his son."
"I think Brennan realizes the only way that he can keep her safe would be to do something illegal like taking out Pelant. Which is something that he might [still] have to do. We certainly have not seen the last of Pelant."
"To put Booth on the run compromises his character and his job. When Brennan does return, he is still the honorable man that he has been for seven seasons. However, he's furious. He's furious, but he understands."
On the time jump between seasons: "She's been gone, but she's been working. It will be revealed what kind of communication there has been from Brennan. I can't tell you who's been communicating with her, but somebody's been communicating with her. There has been some movement in the case."
On whether she's still on the run: "[The premiere] is all about trying to clear Brennan, bringing her back in and finding something that will put Pelant away. When we come back, that's the first order of business."
"Whether they're successful in all of those pursuits remains to be seen. I can't imagine they will be successful in all those pursuits, but we certainly want to see Brennan come home.
On the so-called bonus episodes, some of which were teased in this new promo: "We'll be sprinkling them throughout the first part of next season. This season, since we do have a full order, we're going to be able to do more with the supporting cast than we were able to do last year."
On the supporting cast: "We're going to be exploiting the personal lives of all of our people. We want to get Cam involved in a new relationship and see what's going on with her daughter."
"There is the start of something with Angela maybe getting a little antsy. One of the four bonus episodes that we shot focuses on Angela and domestication and how comfortable and uncomfortable she is with that."
"Sweets' life will take a turn. He's been very complacent. He thinks he has a very secure thing going on with Daisy, but I think we're going to try to shake things up for Sweets."
Steve Marsi is the Managing Editor of TV Fanatic. Follow him on Google+ or email him here.