Breaking Bad made its first-ever appearance at Comic-Con yesterday, taking over Ballroom 20 in front of 4,000 fans and clearly having a blast while doing it.
Creator Vince Gilligan walked on stage wearing a white "Heisenberg" shirt, while Dean Norris came dressed in a Xena Warrior Princess costume. Bryan Cranston and Aaron Paul then completed the panel… in their yellow hazmat suits.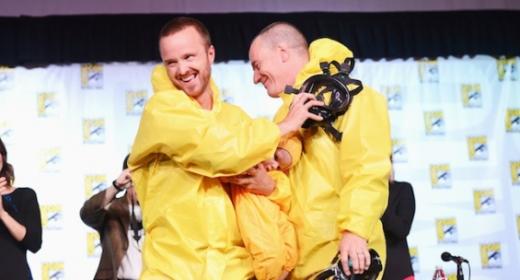 The Q&A was moderated by TV Guide's Mike Schneider, who immediately told the crown to "hail King Heisenberg." He then got down to business:
What is the state of Walt's cancer?
"We haven't forgotten what brought us here," said Gilligan. "The irony is that he wouldn't have gotten the best oncology care had he not cooked all that meth. He's in state of remission. But will that continue?
Where is Jesse at on Season 5?
Happy he's alive, Paul said, but: "If he finds out about Jane and Brock, he will go out guns-a-blazing for sure."
And Skyler?
Said Anna Gunn: "When she hears that Walt was the mastermind of Gus' death, that's a hammer that drops on her so hard. She is terrified of him now."
Among other intriguing tidbits/spoilers:
Gilligan said we'd hear "more German than Spanish" this season.
The parent company of Los Pollos Hermanos' parent company, Madrigal, will play a major role.
Gilligan on penning the series and adding a popular character: "It's an organic, living process. For example, Mike's character wouldn't have been on the show had we been able to book Bob Odenkirk for that role in season two."
The tone of Breaking Bad Season 5 will be "eerie and creepy," Paul said, adding that the entire run feels like "Crawl Space."
Hank does not suspect his brother-in-law at the moment, but Norris said "he's still looking" for the drug dealing mastermind.
Check out the following Season 5 trailer that preceded the panel and visit TV Fanatic tomorrow evening for my detailed season premiere review:
Matt Richenthal is the Editor in Chief of TV Fanatic. Follow him on Twitter and on Google+.