Christopher Gorham Previews Covert Affairs Season 3, Changes to Come
Jim Halterman at .
Be warned, TV fanatics, when you tune in to the Covert Affairs Season 3 premiere tomorrow night... changes will be afoot.
So teased Christopher Gorham when he popped in for a surprise sit down during a recent set visit to that other USA hit series we can't get enough of, Suits. .
The two shows shoot on the same lot in Toronto - and TV Fanatic's Jim Halterman was on hand with some questions to find out just how different things are going to be for Auggie, Annie and company...
-------------------------------------------
"It's the same show, but the storytelling is really different," the always-gregarious Gorham said. "It's much more serialized than it's been before. We have one mission that everyone's working on in their own way that lasts the whole first 10 episodes."
And things get off to a big start immediately, said the actor, who admitted he isn't fully sure how fans will respond.
"The first episode is huge and kind of changes everything for the entire season. It'll be really interesting to see what the audience reaction is and how they respond to the new tone of the show. One of the realities of the CIA is that it's a dangerous place to work and anything can happen and there are consequences to your actions and so we really see that this year."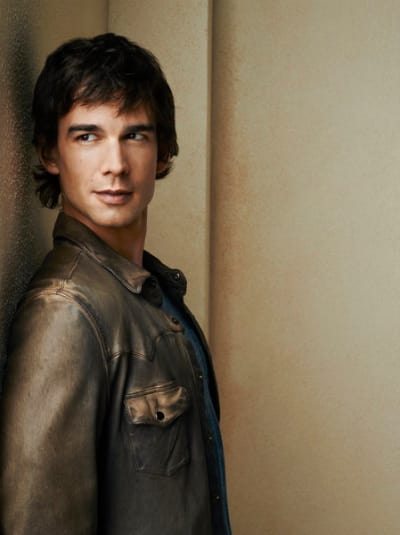 Gorham advised that with all the changes ahead, Covert Affairs fans may no longer be a series viewers will want to leave sitting on their DVR, but - gasp! - actually watch live instead. How come?
"Because at the end of every episode [there are] huge revelations."
Of course, while the dangerous and compelling CIA missions are part of the draw of the program, Gorham is well aware that the potential for an Auggie pairing with Annie (Piper Perabo) is also bringing in viewers who have waited patiently for something to happen between the two.
"We kind of opened the door to the Annie and Auggie relationship at the end of [Covert Affairs Season 2] and so we explore that... in a way that's very real for who those two people are right now."
Like things both professional and personal on the Matt Corman/Chris Ord-created spy drama, don't expect things to happen with ease when it comes to a potential romantic pairing. Gorham added that Auggie and Annie "both have very complicated lives and the fact that Auggie's blind has allowed us to play with the relationship in a way that you can't do with any two other characters and it's a lot of fun for us to do."
However, no matter where their relationship goes, expect it to insert itself into the cases this season, including a mission where the two agents have to pretend to be married, while they also find themselves in exotic locales such as Barcelona, Morocco and Puerto Rico. Do those warm, sunny places lend themselves to seeing the fit bodies of Gorham and Perabo on display?
Ever the master of teasing, Gorham said with a grin: "Do we see beach scenes? Yeah. Do we see bathing suits? We do. Yeah, episode three is bathing suits on the beach, episode two is Annie and Auggie in a hotel room. [Laughs.] Episode 4 is Auggie's apartment…"
Another relationship that is fractured and will be getting some attention is the one between Auggie and fellow CIA officer Jai Wilcox (Sendhil Ramamurthy).
"I think their relationship at the end of last season had really fallen apart. It's always fun for Sendhil and I to play together because with those two characters they don't really like or trust each other, but they do have a respect for each other."
And one thing that fans can rest assured has not changed about Covert Affairs is its stellar use of guest stars. This season features turns by Sarah Clarke (24), Richard Coyle (Prince Of Persia) and the return of Devin Kelly as Parker, last season's romantic love interest for Auggie.
Finally, since Gorham was chatting with the press in the Hardman/Pearson conference room on the set of Suits, I had to ask: is any chance of a crossover?
"I've only been told that I can't sneak in and be background like I've planned on," Gorham said with a laugh. "Apparently my wardrobe isn't up to Suits snuff. But no serious talk that I'm aware of, but it would be great because these guys are great."
Jim Halterman is the West Coast Editor of TV Fanatic and the owner of JimHalterman.com. Follow him on Twitter.