This week's Drop Dead Diva was all about the "Happily Ever After." While Jane was debating her own future with Owen, she took on the case of a Bhustanese woman who was being forced into a royal marriage.
Jane went up against a lot of opposition, but her passion for the case said a lot about her character.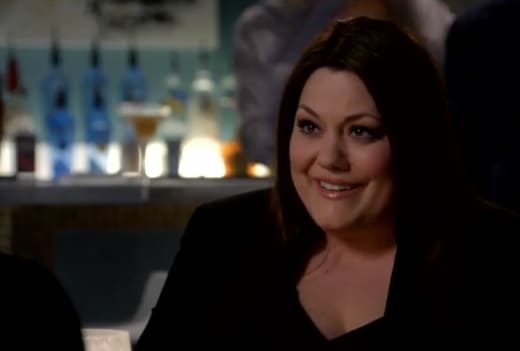 It's always somewhat enlightening, and of course makes for a good episode, when a legal case inspires the characters in their real lives. For Jane, this wasn't just an individual case. It represented women's rights and human rights. The idea of someone being forced into a marriage was unacceptable to Jane and when she found out Owen believed marriage to be "archaic" it put her own relationship into question.
For the sake of this woman and women everywhere, we can't afford to lose this fight. | permalink
The bottom line is that you can't force someone's hand when it comes to love. When Jane found out she and Grayson had won the case and Owen was waiting for her downstairs, she seemed to be startled by a revelation. She knew she couldn't force Owen to respect the institution. Then lo and behold Owen... whipped out a ring!
I'm kind of surprised Jane said yes so quickly. It seemed in that moment before she went downstairs, perhaps she realized her feelings for Grayson weren't dead. As much as I like Owen, I still wonder if Jane and Grayson belong together. What do you all think? 
Also, why is Luke so determined to keep them apart? I understand that Jane can't reveal she is Deb reincarnated, but if Grayson fell in love with Jane now, why would Luke hold him back? I just don't understand what is different with this guardian angel. Sure, he is more stern and gives better guidance, but he seems to have a very specific agenda.
Elsewhere, Parker and Kim teamed up to defend Eric's teacher, who was fired for making racy videos with his wife. I couldn't help but laugh when Eric asked Parker if he could Google "porn." There aren't enough parental controls in the world for that scenario to be okay!
That judge seemed to be out for Kim. Parker felt defensive of her, which made him even more impassioned to win the case. He went to great lengths, (aka stripping in court) to get his point across. Despite that stunt, it seems to me that Parker is in a good place. He finally has people he really cares about, and his life isn't just about taking on the biggest client. I'm happy he and Kim are working it out.
I thought this was a strong episode was compelling cases. As for Stacy's pakery, well would you go there if you saw a Tweet that Channing Tatum was spotted? Normally I'd say "nah," but I did see Magic Mike tonight so that is going to influence my answer! What did everyone else think of the episode? Are you excited about Jane and Owen's engagement?