We know who the nominees are, and we've taken a look at some of the biggest snubs, but now it's your turn to weigh in on the 2012 Emmy Awards TV Fanatics! Staff writer Dan Forcella is here to give you quick refresher on each of the major categories, and then turn it over to you all to let us know who should win come September 23.
Other categories previewed so far: Lead Actress Comedy, Lead Actor Comedy, Supporting Actress Comedy, Supporting Actor Comedy, Comedy Series, Lead Actress Drama.
-------------------
Bryan Cranston will probably be making history this September. Only one man has won the Emmy for Outstanding Lead Actor in a Drama Series on four separate occasions. Cranston will most likely be joining Dennis Franz in the prestigious class in 2012. The way things are going, he will probably make history again in 2013 and once more in 2014 before Breaking Bad ends.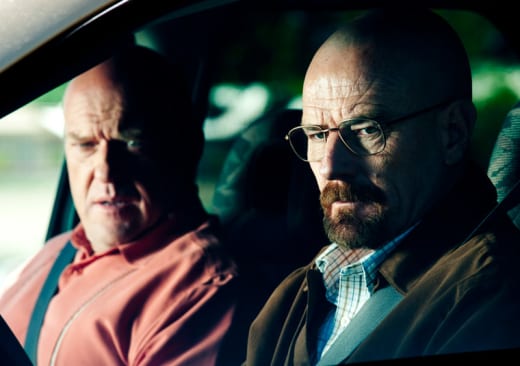 Currently a three-time champion for his work on the AMC drama, Cranston was gentlemanly enough to persuade his series and network to hold off on production so that his fellow lead actors could have a chance at an Emmy. I'm joking, of course, but 2011 was the only time the man didn't win for his portrayal of Walter White.
Also working in Cranston's favor is the fact that the two men that I thought had the best chance of knocking him from the throne, Kelsey Grammer and Dustin Hoffman, were not even nominated! With Grammer's four Emmys as a lead in comedy, and Hoffman's pair of Oscars, I thought either one of these guys might have a shot at winning this thing.
Alas Cranston is left with a similar crop of individuals who couldn't defeat Kyle Chandler last year.  Jon Hamm, Steve Buscemi, and Michael C. Hall have each been nominated multiple times in the category, but never have they won. It doesn't help Hamm and Hall that they joined the race the same year that Cranston did.
New to the group this year, and probably the only two that have a chance to top Cranston, are Damian Lewis and Hugh Bonneville. I say that for two reasons.
Both Homeland and Downton Abbey seem to be loved by the Emmys at this point.
Both guys are new to the field, so we have no idea how much the Academy may love either of them. It's the power of the unknown.
Who did enough to win the prize? And who just didn't have the stuff? It's your turn to let us know who you think should win this year's Emmy for Outstanding Lead Actor in a Drama Series?
Vote in the poll below and then sound off in the comments!
Dan Forcella is a TV Fanatic Staff Writer. Follow him on Twitter.