How many ways are there to dispose of your body once you've passed on? Burial, cremation, cryogenics... plastination? Yeah, that's a new one for me too.
I've heard of donating one's body to science but giving it to a Body View science/art exhibit is certainly unique. "Last Dance" featured Henry Strauss hoping his body would have just that, one last dance. Even if he was no longer using it.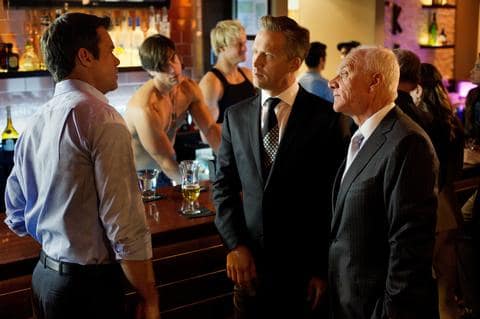 I loved Peter's reaction when he realized that all of the models he was looking at weren't mannequins but actual bodies that had been plasticized.  Even better was Jared's mental countdown as he waited for the reality to sink in.
One of the things that sells Franklin & Bash is that they actually care about their clients. It's not just about the win and that's what makes all of their crazy antics even remotely believable. Plus, these boys are just too darn cute.
Even Hanna saw some action this week as she reconnected with artist turned court sketch artist Nolan. Hanna assumed he was poor and he assumed she had forsaken her artistic soul because she was a lawyer. I did take note that he waited to insult her profession until after he slept with her.
These two certainly hit the sheets pretty quick. Did they even have dinner? Perhaps those were after dinner drinks. But overall I liked Nolan. He challenges Hanna to look at things differently and I hope we see him again.
Did anyone else figure out how being a part of a yacht race was a plausible explanation for Infeld standing naked in his office? No? Me neither.
It was nice to see Damien being so protective over his uncle, although I found myself wishing that the stalking storyline was taken more seriously. Then again, this is Franklin & Bash. Nothing is taken too seriously here and that's part of the magic of the show.
The moment I enjoyed the most was when Infeld apologized to his former client. As he said in this Franklin & Bash quote…
Never underestimate the power of an apology. | permalink
That he then used that theory on the actual stalker was unique, if a touch idealistic. And it was great to hear that Infeld was going to mentor his former client and convict. 
One of the fun things about this show is that everyone has such big hearts. That's why we could all use a little more Franklin & Bash.
C. Orlando is a TV Fanatic Staff Writer. Follow her on Twitter.