"Summer Girls" had me wondering how many female summer interns we'd be seeing this season at Infeld Daniels. Why aren't any of them male? 
I had nothing against Alyssa but she really made me miss Bonnie from last week's episode. She had such great chemistry with Jared that I was hoping she'd be back again.
I liked Alyssa a little less once she had her tryst with Damien. The steamy car scene was funny but they went from barely speaking to car sex so quickly that I found it a bit of a let down. Couldn't a budding relationship have been complication enough for Damien?
At times, it was hard to tell if Alyssa was actually attracted to Damien or just using him to get a step ahead, but given that she ended up taking the job at another law firm for less pay, it looked like she was the real deal.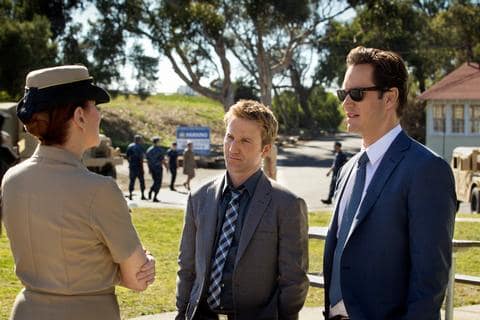 As for Peter and Jared, I loved that the Naval petty officers were looking for the best bar room brawl defense lawyers they could find so of course that led them straight to Franklin & Bash.
The boys were so jazzed about working on a military case that it was kind of cute, but Hanna was the one with the real credentials here. The girl was ROTC and did a JAG rotation for a year. Go Hanna!
It was clear that despite their bravado the boys were in over their heads and needed her help.
I loved Jared's movie references. From him muttering "Roadhouse" after watching the bar room brawl recording to the "Stripes" and "Patriot Games" references, he made me smile every time.
That Hanna had a 52-page document of what she termed Men Behaving Badly surprised me. She was more serious than I thought about keeping tabs on the boys. Did it really only take this one case to make her ditch all of that info?  That she'd chosen not to use it wasn't as much of a shock as her actually deleting the file. It just felt as though she'd be the type to hold onto it…just in case.
And once again, Pindar made me cringe and laugh all at the same time. Has he really not driven a car in five years? And he happily would have plead guilty to get out of that cell if Infeld hadn't of stopped him. As he explained in this Franklin & Bash quote, I almost couldn't blame him.
Pindar: I was in a cell.
Infeld: Nasty place. I've been.
Pindar: There was a toilet in the middle of the room. I saw things. | permalink
Poor Pindy was not equipped to deal with that. 
Once again, the team at Franklin & Bash made me giggle through my Tuesday night. How about you?
C. Orlando is a TV Fanatic Staff Writer. Follow her on Twitter.