How I Met Your Mother Season 8 kicks off on September 24. But who cares? Let's talk How I Met Your Mother Season 9!
Yes, already.
At her session with the Television Critics Association today, CBS President Nina Tassler - who strode on to the stage holding a stuffed monkey in mockery of how much NBC is playing up its actual monkey from Animal Practice - said she's "very optimistic" that the sitcom will return in the fall of 2014.
Moreover, showrunners Carter Bays and Craig Thomas are writing "a strategic wrap-up" to the series, which has teased fans for years with the reveal of the actual Mother.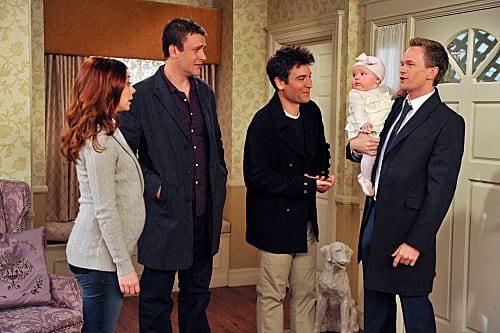 Among other tidbits out of CBS today:
Elementary producer Rob Doherty says he may have cast a woman in the role of Dr. Watson, but any sexual relationship between this iconic sidekick and Jonny Lee Miller's Sherlock is "completely off the table," adding: It's just not in my head for Season 1 and, looking ahead... I just don't feel like that's a part of the show."
Tassler is aware of delayed start-time annoyance during NFL season and CBS will employ Tweets, texts and on-screen messages to alert viewers to when these might occur. The Mentalist, which is moving to Sundays, will also have full episodes available on CBS.com this fall.
Canceling CSI: Miami was a "very big deal" and a "tough choice." Tassler acknowledged.
There will be  "more humor" and "New York event-type stories" on CSI: NY this season.
Matt Richenthal is the Editor in Chief of TV Fanatic. Follow him on Twitter and on Google+.