The Modern Family cast is unhappy with its contract status, and the actors/actresses are taking major action in response.
The first table read for Season 4 was canceled at the last minute today because Ty Burrell, Julie Bowen, Jesse Tyler Ferguson, Eric Stonestreet and Sofia Vergara actually filed a lawsuit against 20th Century Fox in order to get out of their current deals.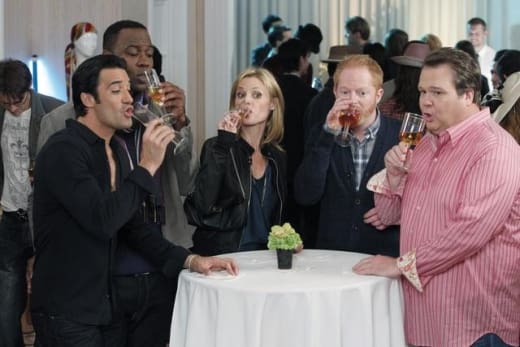 With the exception of Ed O'Neill, who made around $105,000 last year, the actors were paid around $65,000 per episode on Season 3 and were reportedly offered raises to $150,000 per episode plus a $50,000 per episode bonus for season 4; $200,000 per episode for season 5; $225,000 for season 6; and up to $325,000 for an anticipated season 9.
But each star is looking for a significant amount more and The Hollywood Reporter just updated its story to say O'Neill has joined his castmates in their suit.
This type of legal maneuver is common among TV show casts (see Friends) and is reliant on California's "7 Year Rule," which prohibits personal services contracts for longer than seven years.
In 2011, Modern Family generated $164 million in advertising revenue for ABC and it recently inked a syndication deal with USA for approximately $1.5 million/rerun. Cast negotiations on television are nothing new, but this is notable for interfering in the sitcom's production schedule.
Modern Family was just nominated for Outstanding Comedy Series, its third nod in that Emmy category.
UPDATE: The cast all showed up for a rescheduled table read on July 26. They continue to negotiate new deals.
UPDATE: The cast has now agreed to a new deal. Hooray for Season 4 starting on time!
Matt Richenthal is the Editor in Chief of TV Fanatic. Follow him on Twitter and on Google+.