Connie Britton and Hayden Panettiere took reporters on a trip to Nashville.
The stars of this upcoming ABC program - which centers around Britton as a country music veteran and Panettiere as an up-and-comer in the business - took the stage at the Television Critics Association press tour and explained that the drama won't just be a series of bickering between rival artists.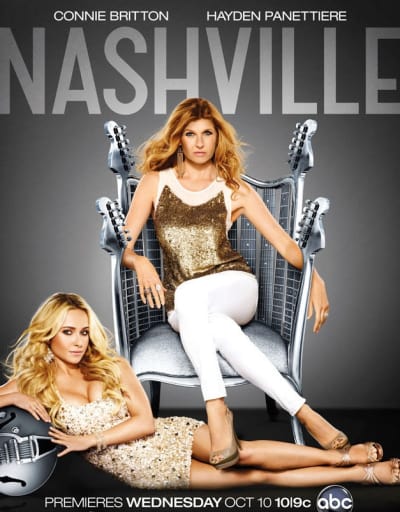 "We have a real opportunity here to show the complexities of these two kinds of people in show business and particularly women, and I for one feel a really strong responsibility to do that in a way that is true and dignified," said the beloved former Friday Night Lights actress, adding:
"My whole mantra from the beginning is 'This is not a catfight.' I don't think anybody's interested in that. We're much more interested in showing these two people at different places in their lives and what their journeys will be."
Britton, of course, portrayed Tami Taylor for five years on the aforementioned NBC series. And while she says the character of Rayna James won't say "y'all" as often as Tami, she admits to a "kinship" between Southern women.
"I think that's why people really respond to [them]," she says. "Because strong Southern women are also allowed to be soft and feminine and have a sense of humor, and there's something that I really love about that."
Panettiere, meanwhile, will at least somewhat butt heads with Britton's James, portraying a young artist named. Juliette Barnes. Is she based at all on Taylor Swift?
No, they are just around the same age and blonde, replied the former Heroes star. Also: "Taylor is "much nicer than my character."
Executive Producer R.J. Cutler promises original music in every episode, but this will be anything but a Tennessee-based version of Glee. Look for political intrigue and scandals of all kinds to play pivotal roles.
"That's what the exciting part of the show is for us," said Cutler. "There's music, there's drama, there's family story. You're in the music business world, you're in the political world, but at the core of it are these relationships and they drive through everything."
The show premieres on Wednesday, October 10. Watch a Nashville trailer now and decide: Will you give it a shot?
Matt Richenthal is the Editor in Chief of TV Fanatic. Follow him on Twitter and on Google+.