What happens when the secret boyfriend is no longer a secret? That was the issue facing Dani this week on Necessary Roughness.
The kids thought Matt was great when he was just the trainer working with mom... but now that he's a love interest, has he become "Mr. Irrelevant?" Perhaps not, but Ray Jay and Lindsay had more important things on their minds than their mom's romantic life. They're teenagers, after all.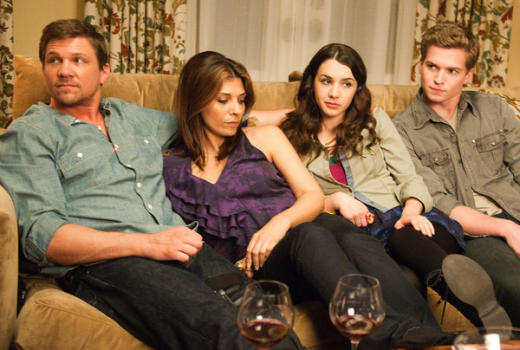 Ray Jay's only concern was his two-month anniversary with Olivia. Ugh. I can't wait to see that teen crush crash and burn. And Lindsay tried out for the Pommies but she quit almost as quickly as she made the cut.
Lindsay felt lost and asked Dani if she could see a therapist. Because all of her friends have become Pommies, I really couldn't blame her.
Poor Dani never saw that one coming. I'm actually looking forward to Lindsay's therapy sessions. As long as they don't take over the show, I'm excited to see what's in the gal's head, as I find her infinitely more interesting than her brother.
Matt got his big promotion to temporary Assistant General Manager, which seemed a little far fetched to me. Can someone really be promoted from trainer to assistant GM? But I'll let that one slide. Matt was great at work but I was disappointed in the way he blew off TK. TK's gone through Hell and he not only needed Matt as a trainer but a friend. I understood Matt needed Stan to take over as trainer, but TK needed him to stay involved in his care and Matt made it clear he now had other priorities.
After the last episode, I mentioned how happy I was that TK didn't seem to be relying on the pain pills any longer. Well, it looks like I spoke too soon. I can only imagine that this story arc will be showing TK in a downward spiral. That seems pretty cliche and I'm still hoping they go another way with TK's recovery.
The tweet master story was great because I could only imagine how many celebrities have hired someone to tweet for them. I'm sure we all have our guesses but I'd love to know who tweets themselves and who hires a tweeter. It's a strange, strange world.
The illusionist story wasn't a favorite for me but perhaps that's because I've never enjoyed that sort of thing. Burying yourself alive or purposefully hanging off of a skyscraper is just asking for trouble. 
My one complaint for this episode was that there wasn't nearly enough of Nico. Hopefully we'll get more of him next week.
So do you think Matt and Dani will last? Is TK headed towards addiction and am I the only one wishing for more Nico every Wednesday?
C. Orlando is a TV Fanatic Staff Writer. Follow her on Twitter.