I thought I liked where this season was going, but if there's anything tonight's Royal Pains has taught me, it's that "Fools Russian" - and not in a particularly organized way, either.
Not sure if it was the intent of the writers to deliver such a fragmented and mildly cohesive episode... or if that was some unfortunate accident that occurred on the cutting room floor. But this wasn't my favorite.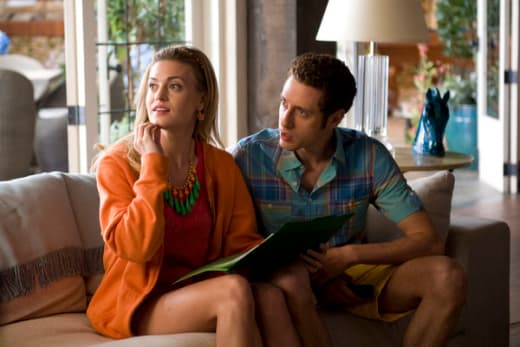 It was okay that we started with Hank having to re-sign a client whose contract was up. I was even more accepting of the fact he was a childhood crush of Paige's. But when you combine that with the constant and not even very clever or funny Star Trak references, one starts to wonder what significance it really has to the larger narrative.
This show is light-hearted and fun. I get that. I'm only asking that we keep in mind that not everyone is a Trekkie, and that themed episodes were made famous on this network by another show, and it needs to remain that way. It only works when you follow through in every aspect of an episode. This was not the episode to do it in.
On another front, you had some really random stuff going on with Boris and his Russian friend, Dmitri. I barely understood the connection between these two and some clandestine oil deal. Furthermore, I don't understand how Hank can stand to be a pawn in Boris' game? What is that game, even? It sounds like politics rather than business to me.
What will any of this reasonably have to do with Hank in the end? When this whole plotline has played itself out, I wonder if we will be able to draw a meaningful and cohesive line from the premiere to the finale and say, "Yes, Hank was a necessary element to this storyline, and it was completely necessary in the development of his, and that rest of the show's characters."
Don't know about you, but from where I'm standing, I don't think that's a question I'm going to be able to answer in a satisfactory manner.
To make matters worse, Hank diagnosed Dmitri in the most unenthusiastic and anticlimactic way possible. He just stated what he had, the symptoms that he was presenting with that constituted that diagnoses, and that was it. We were done.
I think what I was most displeased with was the fact that the helicopter landed in a less-than-exotic or unexpected destination than I was hoping. There is a minute chance I might be slightly bitter about that!
And then there's come-on-too-strong Christina. What the heck was up with that?! She's not even that cute. She's certainly not Jill. I know I said a few weeks back that I didn't want to see Hank in a relationship. This included flings with foreign interpreters, in case I wasn't clear.
To use Divya's words, there are a few "mango lining[s]" here:
The plot involving Divya and her father progressed this episode in a way that directly aided in the development of her character.
Divya and her father are on the road to reconciliation.
Daddy Katdare did not jump from the balcony and into the pool in an act of complete and utter despair.
Royal Pains has every opportunity in the world to redeem itself and this season when it returns next week.
So, Hamptonites, were you scratching your head as much as I was during tonight's episode?
C. Charles is a TV Fanatic Staff Writer. Follow her on Twitter.