Teen Wolf Cast Speaks on Season 2, Comic-Con Costumes, Darkness Ahead
Matt Richenthal at .
One day after receiving news of a Teen Wolf Season 3 pickup, the cast of this MTV thriller walked the video line at Comic-Con.
What can we expect as we move toward the end of Season 2? How dark might things turn for Allison? What in the H-E-Double-Hockey-Sticks is going on with Lydia? Why was Colton Haynes wearing a shirt? We've got your exclusive Teen Wolf scoop below...
-------------------------------------------
First up: Scott himself. Tyler Posey was a chatter ball of fun, warning fans that the relationship between Scott and Allison may soon hit a few bumps in the road. A few scary, dark bumps, that is:
Next, Dylan O'Brien dished on Stiles' love life - or lackthereof - and shared his favorites Stiles scene with us:
A clothed Haynes, meanwhile, talked about life as the Kanima and how difficult it was to keep the secret of this identity for months and months:
Holland Roden then touched on the filming of last episode's bizarre conclusion, while making it clear she's happy not being the Kanima and going through all that makeup, thanks very much:
How does Derek view Stiles? Tyler Hoechlin answered this question for us: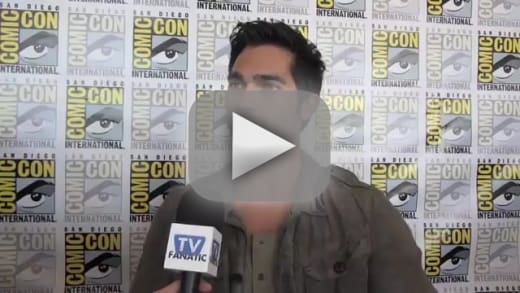 Allison versus Katniss Everdeen? Who does Crystal Reed have in that battle? Find out now:
Matt Richenthal is the Editor in Chief of TV Fanatic. Follow him on Twitter and on Google+.