The action never seems to stop on Teen Wolf, and that was no different on "Raving." Both sides made plans, neither of which worked out how they had wanted, and a couple of people were hurt in the process.
The first - or the last, as it was how the hour ended - was Mrs. Argent, who took the bite from Derek after attempting to destroy her daughter's boyfriend. That's what she gets, though. You can't mess with Scott McCall. When you do, you get bitten, literally.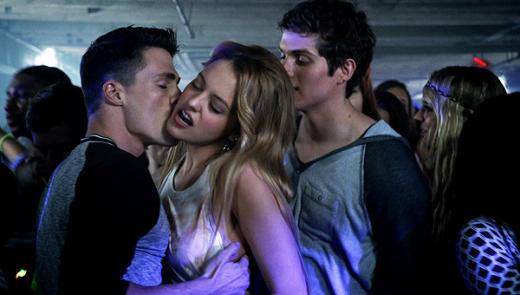 Derek coming to Scott's rescue was awesome. Ever since they first met up way back in the beginning, it has always been nice to see their connection come to the forefront. Derek was seriously worried about Scott, and when the latter uttered "I'm not alone" I can only hope he was referring to his quasi-pal Derek.
As for Mrs. Argent, I guess this is the first of a number of big surprises that J.R. Bourne teased to us a few weeks ago. "There's going to be a tragedy, something that the Argents are going to have to deal with," Bourne said back in June. This is certainly something they're going to have to deal with.
You know who is also going to have to deal with something? The family of that girl that the kanima and its master obliterated. She just got sliced up like Thanksgiving turkey.  
How about this master, though? Dead? A ghost? Undead? Revived? What's going on with this person? We learned - thanks to the help of the Stiles men - that all of the victims were 24 and may have been in the same class. It seems as though they all may have ganged up to kill this master so he is seeking his revenge.
How exactly that is happening I'm not sure, but watching this kanima master gets its revenge is more entertaining than seeing Emily Thorne seek hers, so I'm not going to complain.
Mrs. Argent and the random 24-year old that was murdered took the brunt of it this week, but everyone else at the rave was in danger as well. That included Allison, who screwed everyone by spilling the beans to her family. I know blood is thicker than water, but wouldn't you rather share a glass of tap with Scott than see your mom's blood spill out on the floor?
On top of that, Allison also went out on a date with Matt! I know Scott told her to, but come on girl. How you gonna treat our boy Scotty that way? All I know is that when Topanga told Cory to go on a date with Lauren, it was a trap. Boy Meets World references aside, I hope you enjoyed yourself Allison!
Who didn't end up enjoying himself, even though he had the important job, was Stiles. He was mainly responsible for getting his father fired... sorry, on a leave of absence. It killed Stiles, and you could see it in the emotion on Dylan O'Brien's face. Great work.
Before it ended with the reveal of Lady Argent's bite, the vet and the guidance counselor were chatting it up about some high level intel. What do they know? And What do they have in store for everyone else?
What did you think of "Raving?" What was your favorite moment? How do you feel about Mrs. Argent's bite? How about Allison telling her fam about Jackson? What are you most excited to see happen next? Let us know in the comments!
Dan Forcella is a TV Fanatic Staff Writer. Follow him on Twitter.