The Bachelorette Review: Fantasy Sweetness ... and Regret?
at .
Natalie Getz is a former Bachelor hopeful and the first-ever winner of Bachelor Pad.
In reviewing The Bachelorette for TV Fanatic she brings her unique experience of having been through this roller coaster ride, as well as her spot-on commentary on the men seeking Emily Maynard's heart.
Which of the guys shined most in this week's hometown dates?
Find out in Natalie's review of Episode Nine, using a breakdown of some of the best quotes heard throughout. Who got the boot and who's on to the final two? Were The Bachelorette spoilers right? Read on ...
-------------------------------------
For the first time in the history of this show, not one person spent the night in the fantasy suite with Emily! She took her remaining three lovers to Curacao where she fell in love with all of them.
Let's just say this was an emotional rose ceremony, and I'm not sure she was 100 percent certain that she wanted to send [spoiler] home.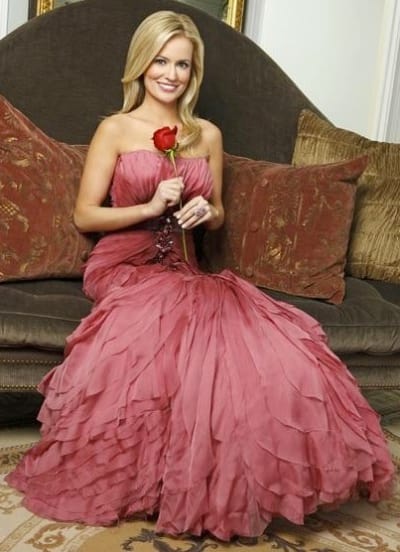 Emily and Sean: Hold up... Emily has a daughter?
Emily:  "I am taking you to our very own private island."
Sean gets the first date in Curacao.  Emily takes him to a private island? Ring a bell, anyone?  Brad took Emily on a private island date when she was the top 3.  You'd think she would have saved this date for Arie Jr.....  Or Sr.  Whichever.  They are both hot.
Sean:  "I'm so glad it's just you and me."
And the audience of production, camera operators, hair and makeup lady, sound guy, Oprah, etc.  
Emily:  "Ya, your family told me you treat you girlfriends like best buddies." 
Sean asked Emily if there was anything she learned about him after being introduced to his family.  She is definitely a feisty little one! Not at all afraid to talk about tough subjects and be stern!
Sean:  "The love I have for Emily is quite different than the love I've had in the past.  I'm in love with Emily.  I want to marry Emily."
Sean is experiencing what it's like to actually be in love with someone for the first time.  Somewhere, his ex girlfriend wants to bury her head in the sand after hearing him claim, "With my ex, I didn't want to touch her or kiss her."
Emily:  "It's not just me, it's Ricki and I."
Sean says he isn't concerned about how they will fit into each other's lives and Emily informs him of Ricki as if we all didn't already know that she was a mommy.
Sean:  "I will never try to make you forget your father, but I don't want you to ever forget that you are my daughter."
Sean wrote a letter for Ricki and will give it to her in the event that he marry Emily.  Probably the sweetest line I've ever heard!
Sean:  "My life is going to change drastically...and that's exciting!"
Sean tells Emily he is ready for the changes he will go through by becoming a Husband and an Insta-Dad.
Emily:  "The fibers in my body are telling me to stay the night with Sean, but the fibers in my brain are telling me not too."
Emily is saying she is horny in a Southern, PG sort of way. 

Emily and Jef:  No sex in the Champagne room.
Jef:  "I'm 100% positive that I want to be with her, but I'm not 100% positive it will work out."
Jef loves her, but he also is aware of the two other guys she is dating.  He is a week away from proposing to his girlfriend, but she is still dating two other guys pretty seriously.  How messed up does this sound?! 
Jef:  "I love hanging out with parents."  Emily:  "I'm a parent, do you love hanging out with me?"
It's no wonder why Jef and Emily get along so well.  Emily needs to marry a big baby.  I feel like she is the type of woman who likes to be taken care of in an old school sense where the guy does the manly chores and financial management, but still needs his wife to cook, clean, hold him and be there for him emotionally. There is nothing wrong with that!  That's exactly what I want, at least.  #Republican
Emily:  "You can get me in trouble, and I can get you out of trouble."
I just love this line.  Totally sums up her relationship to Jef.
Emily:  "When I'm with Jef, I really do feel like there is no one else around."
The hilarity factor in all of this is that they haven't been alone yet since they met.  Not until the door on the fantasy suite closes.  Otherwise, it's them plus 20 people watching from the other side of the camera.   
Jef:  "I'm falling in love with a girl and I haven't met the most important part of her life yet. A part of her life that will be there.  Forever."
The thing I love about Jef, is that he is constantly bringing up Ricki and expressing his concerns and love for her. 
Jef:  "You are such an amazing girl.  So why haven't any past relationships worked out?  Is it that they were missing something, or is it because you were missing something...(Emily's gives dagger eyes).....with them." 
Jef quickly corrects his mistake.  Phew.  That could have gone South rather quickly.
Jef:  "I've never met two people more perfect for each other."
I think Jef is so sure of himself, because he understands there situation and connection and knows it's beyond physical.   
Emily:  "When I stopped in Charlotte for a few days, I was packing Ricki her lunch and I tried to think of what it would be like with a man there.  And I pictured you.  And it made me really happy."
She pretty much just accepted his proposal.
Emily:  "After I asked Jef about the fantasy suite, he turned me down.  I kind of wanted to turn him down."
Jef challenges Emily and this is good for any girl!

Emily and Arie: Tune in Tokyo
Emily: "Dolphins are not that scary. But, they scared me."
Emily took Arie swimming with the dolphins in the middle of an ocean in their natural habitat!  I think she was just playing scared so she could be in Arie's arms the whole time.  Well, that's what I would do at least. 
Arie: "There is such a chemistry between us. It's hard for us to even talk, because we always want to kiss each other. It feels great."
Literally, these two make out more than they talk.
Emily:  "I'm not gonna lie, I love kissing Arie.  All the time. Whenever we are not talking, we are kissing."
I'm not gonna lie, all they do is make out and then talk about making out. Whenever they are not kissing, they are talking about kissing. 
Emily: "It's going to be really hard to not stay the night with Arie in the fantasy suite."
Arie is definitely hard up tonight after a night so close to being with Emily.
Emily:  "I'm trying to see if there is more to Arie then just chemistry." 
They have a lot of chemistry, but they also have a sweet relationship.  He is her lover.  Sean is her best friend.  Jef is her sole mate, because he is both of those.
Arie: "When I tell you I love you, I can see so much emotion written across your face."
That was beautiful Arie. But, I can't ever see emotion in Emily's face.
-------------------------------------
Sean was extremely shocked and hurt when he was sent home tonight. I felt extremely bad for him, because Emily really led him on. She isn't doing it on purpose, but she really is giving all three of these guys the idea that they are the one for her. I think she is the most confused bachelorette yet.
Most know who they are going to pick from day one and Emily is still unsure. I feel bad for her! They gave her such great options that now she can't choose!  Maybe she can join Kody and the Sister Wives gang for a little role reversal. What do you guys think about Sean leaving? 
All in all, I'm disappointed that the fantasy suite wasn't used.  Yes, I get she is a mother and needs more respect, but people, she is on this show already. I mean, it kind of just comes with the territory!
She didn't have to sleep with them by any means, but they should have stayed up all night, chatted, made breakfast, etc. without all of the cameras and production. What a lot of you don't know, is that the fantasy suite is the only time the cast doesn't have a camera on them. Who cares what people would have thought? 
At least Emily would have known that she didn't disrespect herself and that is what is most important. She chose to not take advantage of being off camera for moral reasoning, and there for she did not forego her individual room.
How can you get engaged to someone if you have never even spent an entire night with them talking and laughing all alone?!?!?!?!? Oh boy. See you all next week!