Although I saw the last minutes of "Last Rites" coming somewhere around the halfway mark of the hour, the impact of what occured wasn't obscured by the foreboding. Not in the least. If anything, Kyra Sedgwick's incredible response brought me to tears.
Sedgwick is such an incredible, emotional actress that you have to wonder how much of her was feeling not only Brenda Leigh's pain, but her own pain at the loss of her alter ego. Surely playing those last minutes drove home that the end was near and she'd be saying goodbye to a character that had become intrinsically linked to herself.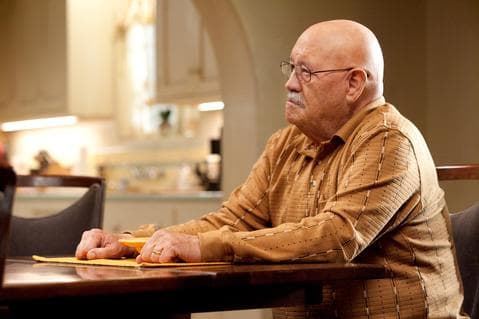 There was a lot to be learned during this episode, not only the play on words brought about by the title. Finally seeing Clay and Willie Ray again, knowing Brenda's daddy was being brought back to health by the oncologist she knocked heads with in "Drug Fiend," was a welcome relief.
Brenda was obviously having trouble balancing her family and work situation, and it was never more apparent how much time she gave to Major Crimes than it was as she juggled family meals, crime scenes and phone calls from mama. Brenda was coming apart at the seams.
I had to give Clay some credit for allowing Brenda and Willie Ray to gussy up his walker with red and blue flashing lights and crime scene tape. Did we ever get to see him use it? I don't think so, but I'd imagine the cast had a hell of a time playing with that prop between takes.
Kyra Sedgwick and James Duff held a press phone call in June and discussed a lot of the changes that Brenda would be experiencing as The Closer came to an end. For a good portion of the season, Chief Pope has been a thorn in Brenda's side. The department suffered a leak that still remains undisclosed, and he's been at the forefront of the suspect list. Standing close by on the list was Commander Taylor, but in recent episodes he's shown a distinctive change toward Brenda, almost leaning in a protective direction.
When Pope was seemingly more interested in saving his own ass before his next ascent in the ranks of the LAPD - depicted by a written complaint he gave to Raydor as a threat mechanism against Brenda -  it was easy to want to stomp down on him, and hard. Raydor pointed out that they may have been friends and more at one time, but Pope wasn't going to let Brenda disrespect him and it would be in her best interest to let him take the lead with the Catholic Church, even if it was only to make himself feel better.
Taylor, meanwhile, was still looking out for Brenda and trying to keep her out of the line of fire. It was a really strange dynamic.
By the end of the episode, Pope made it clear that he had no intention of actually filing the complaint, he'd just been worried about Brenda and had been trying to scare her straight. He figured maybe if he treated her badly enough she would get the message and stop trying to run freely. Of course, Brenda will never change. She can't and she won't. Not for those reasons. Their discussion, however, was a long time coming and it felt great for both of them to just let their hair down, so to speak, and for us to get a hint of the relationship they used to share. The tensions between all of them has been enormously draining, and until Pope shrugged off that complaint, I didn't realize how good it would feel for them to put aside their animosity.
If things were getting better for Brenda at work, they were only getting more complicated at home. As her mama stalked her with the desire to talk, I had that general sense of foreboding I mentioned at the beginning of the review.
When Joel jumped onto the table, I knew Brenda would never see Willie Ray alive again. Death is a funny thing. You can spend a long time expecting it to come, or it can come in an instant. Either way, mark my words, you will be completely unprepared for it.
It was rather brilliant for Brenda to be so concerned for her daddy that she let herself take her mama for granted. After all, she's fine! That moment was a long time coming for Brenda. Fritz tried pushing her to see within herself, how she spent too much time with work and not enough for herself or her loved ones. In the end, it came after her with a vengeance. It didn't give her any time to flee, or think upon her actions or give a second thought to her behavior. It just walked up, slapped her across the face and ran. Us, too.
Did you see it coming? Knowing that Willie Ray is gone, what do you think this means for Brenda's departure from Major Crimes? We have two episodes left. One will assuredly be spent on the department leak and the other on Brenda Leigh's future. They are coming much too fast.
Carissa Pavlica is the managing editor and a staff writer for TV Fanatic. She's a member of the Broadcast Television Journalists Association (BTJA), enjoys mentoring writers, wine, and passionately discussing the nuances of television. Follow her on Twitter and email her here at TV Fanatic.