Three words: Watch. This. Show. 
"Vacancy" is an appropriate title for the season two premiere of The L.A. Complex, considering that no matter how each character tries for success, they somehow come up empty either emotionally, monetarily or physically. 
The episode starts with an establishing montage of some of where our favorite characters have left off. Nick and Abby happily enjoy one another in the bedroom while Connor walks out of his newly burnt house in a state of disbelief and numbness. Raquel is also not willing to believe what she sees in front of her: a multitude of positive pregnancy tests yielding the exact opposite result that she desires. 
While the whole "Oops, I'm pregnant" plus "Who's the daddy" storylines can be overplayed, I buy Raquel's anguish over her pregnancy, especially because she manages to sabotage every relationship she's been in just by being who she is.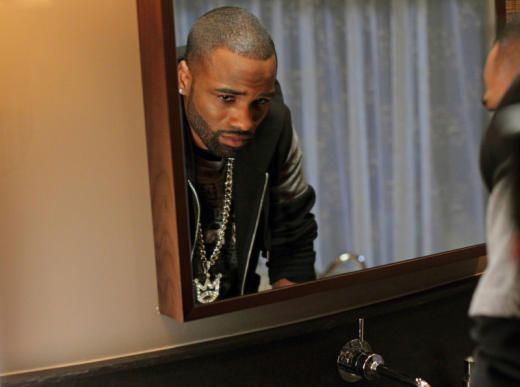 As Raquel is practicing breaking the news to the father of her child, Connor comes over, desperately wanting to face his own actions, needing to be with someone who needs to be with him. By spending the day together, each of them work to feel something other than anxiety or emptiness over their respective circumstances. 
Trying hiking and a stroll in Hollywood, both of them realize they'd rather be back the complex, especially Connor who is dying to drink his problems away.  Connor's brief discussion with the local Dianetics expert was a nice touch. Connor is so lost; it makes perfect sense he'd grab onto whatever authority is near by.
The two of them end up back at the complex, where Connor takes a dangerous jump into the pool from the second floor, which reminded me of an episode of House where House did the same thing in a move that seemed highly suicidal without having to fully admit to being just that.  Connor and Raquel seem happy to have one another, but the last scene of the two of them, with Rachel in the dominant position, holding on to Connor seems quite telling. 
The two people I was most invested in last season, were Tariq and Kaldrick. To protect his image, Kaldrick punched, kicked, attacked Tariq, the man he loved. And in tonight's episode, he paid for this with Tariq's absence and affirmation that he never wants to see Kal again. The first time these two see each other, Tariq has to put up with the Kaldrick who is trying to impress his team. When he asks what Tariq wants, he asks out of obligation to his producer and fear of exposure. 
When they finally have a moment alone, Kal asks desperately what he can do for Tariq and gets the same answer. Tariq wants out. Out of the city, the state, the country, and incidentally, their relationship. 
Tariq's physical appearance was enough to make their interaction emotional, but watching the transition from Kaldrick, as badass rapper to Kaldrick, an apologetic abusive boyfriend was stellar.
An additional pair of characters made their way on the series as well: Beth and Simon, a pair of siblings who ended up on a commercial shoot where young Simon took the lead right out of the other child actor's hands. I'm wondering if these two characters are here to replace Alicia, who packed up her car and left at the beginning of the episode, for what I'm presuming was the Usher tour she booked at the end of last season. If that is the end of Alicia, I'm disappointed, but it's understandable because her character is leaving justifiably. 
As if the stakes weren't high enough for other characters and their success: these two literally have no other choice but to pursue even the most remote chance of success since their lives consist of living out of their car. 
On the lighter side, Abby and Nick are dealing with financial issues, as Abby's movie has been postponed indefinitely and she arguable tanked an audition for Saving Grace, a morally superior Christian television show that deals with everyday family values. But Nick's day turned out great!  Other than his ex-girlfriend being his competition and his job opportunity being in the hands of the comedian from season 1, Paul F. Thompkins, who hated him. 
But other than that, great! 
Nick even books the job by the end of the episode, contingent on his continual sparring with Sabrina and him not blowing it in front of Paul. My only qualm here is that he seemed to get this job so easily. That isn't in line with the rest of the series so far and definitely doesn't seem to be true to Los Angeles.  But who knows?  Some people just get lucky.
Back to Kaldrick. By the end of the episode, Kaldrick, completely drunk and emotionally shattered, slits his wrists and is found on the floor by the women he invited over, which made me gasp and watch the next episode immediately, which I was lucky enough to have. Everyone else, you need to stick around for next week's to find out the fate of Kal!
Throughout the episode, I was most struck by the parallels between Connor and Kaldrick. Both successful. Both completely vacant at this point in the series. Both successful in their careers and messes in their lives. Again, the idea of vacancy comes into play.  
So, to sum up, our favorite, and by our, I mean the twenty of you that are watching this show, drama about kids trying to make it in the big city is back! Spread the word, people. This show is great, much better than it sounds, and if want it to stick around, we need fans to watch it! 
What did you think of the premiere? Who are you most invested in?  Do you like the new characters? 
Keep watching. It only gets better!