The Vampire Diaries Comic-Con Panel: New Vampires, Witches & Season 4 Tensions!
Steve Marsi at . Comments
So, yeah. Elena's a vampire now. Maybe you heard.
Were it not for that massive alteration to the fabric of the show, it would've been status quo at Comic-Con Saturday when the cast of The Vampire Diaries sat down for a panel discussion of Season 4.
What did TV Fanatic find out? Let's break it down!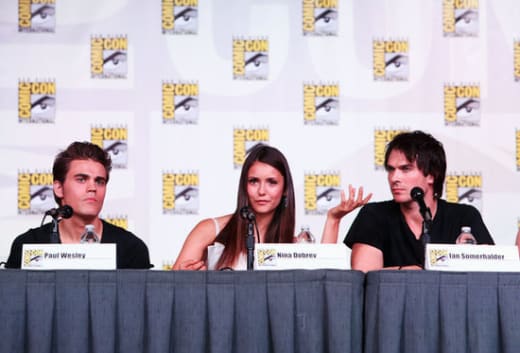 The new Elena: No one could sum up the vampire Elena - and the shift in dynamics her transformation will entail for the brothers who pine for her so passionately - better than Ian Somerhalder.
"Elena was a badass girl, and now she's a badass vampire girl and can take care of herself," he said. "It's going to add a really interesting dynamic between [Stefan, Damon and Elena]."
"I think they'll learn a lot together in a really short amount of time."
Nina Dobrev herself said, "How do you make Elena, the vampire, different from her [human] self? It's going to be difficult ... I think it's going to [depend on] her experiences. Everything's going to be heightened."
"She's constantly going to be struggling with what she is."
Damon's not struggling with what he is. "At this point, he's tried," Somerhalder said. "He tried to be someone people wanted him to be, but he's not." In Damon's view, he's thinking "I did everything you wanted me to do, and it didn't work, and if you don't like it, you can go bleep yourself."
Production is underway: About a week ago, The Vampire Diaries Season 4 began filming, and we saw a few quick teases, both of which involve Somerhalder's beloved character:
Damon is slamming poor Matty up against a wall... angry for many possible reasons.
Damon telling Stefan, "Now the world has one more quarterback. Bravo, brother."
UPDATE: Watch The Vampire Diaries Season 4 trailer now!
Every witch way: Season 4 will delve into who taught Original witch Esther what she knows.
The doctor will see you: Torrey DeVitto's Meredith Fell will be back at some point this fall.
New twists and turns. "Everything just feels so fresh; it feels new," shot-caller Julie Plec said. "It feels familiar in all the right ways, and it feels different, too. It's a lot of deep, emotional and twisted stuff."
MIA doppelgangers. Don't expect Kat to surface anytime soon. She "will not show her little face until Klaus is no longer a threat," according to Plec, and we know he still is ... albeit in Michael Trevino's body.
RIP Alaric. Matt Davis is gone, but at least on TVD no one is ever really gone, and with him on a new CW show in Cult, "He definitely, contractually, has permission to appear," Plec said.
"We certainly don't like living in a world without Matt Davis in our family. It's possible [he'll return], and something we would all like to see." We all would indeed, Julie. We all would indeed.
For much more from the show and this weekend's festivities, check back with TV Fanatic early next week for exclusive video interviews with The Vampire Diaries cast from Comic-Con!
Steve Marsi is the Managing Editor of TV Fanatic. Follow him on Google+ or email him here.