Welcome back, readers, to the 1st annual Tournament of TV Fanatic. It's time for the second semifinal matchup!
We're asking viewers to select their top CW stars and are conducting surveys among favorites from across the network. The concept is simple: Vote on your preferred actor/actress from the pairs in each poll. That's all it takes!
Earlier this week, we kicked off the second-to-last round for The CW with Ian Somerhalder against Leighton Meester. Now, it's on to the other half of the final four:
Vampire Diaries hunk Paul Wesley versus Supernatural stud Jensen Ackles. Have at 'em!
Paul Wesley and Jensen Ackles have advanced to the semifinals. Vote now to determine who moves on in the Tournament of TV Fanatic! View Poll »
Poll is now closed! Here are the results:
Paul Wesley
37.6%
Jensen Ackles
62.4%
We'll announce the winners of both these contests next week and the champions will then meet in the Finals to determine the most popular CW star, as chosen by you, the fans.
NOTE: If your favorite didn't make the cut, there will also be a wild card round, on top of CBS, NBC, Fox, ABC and miscellaneous (HBO, USA, etc.) brackets! The winners will then compete for the overall tournament title!

Here's the updated CW bracket: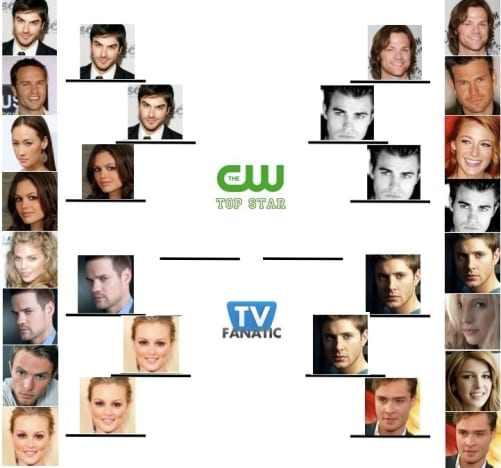 Matt Richenthal is the Editor in Chief of TV Fanatic. Follow him on Twitter and on Google+.