True Blood shocked me this week.
Not through any nudity nor any supernatural shenanigans. Quite the opposite, in fact.
"We'll Meet Again" actually made me care about Terry Bellefleur.
Granted, his storyline with Patrick is utterly removed from everything else on the show. And that flashback to events in Iraq felt completely out of place on True Blood, unlike anything else we've seen on the series. But perhaps that's what drew my attention.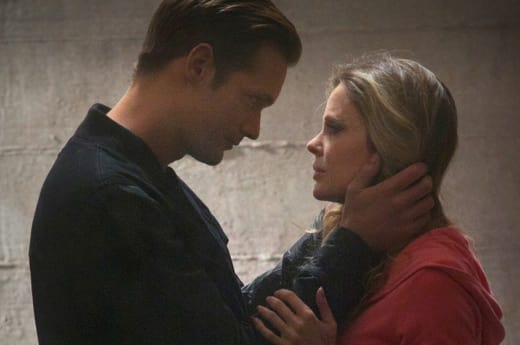 Going on five seasons in, I've practically grown numb to all of True Blood's over-the-top action. I barely raise an eyebrow at this point when a nine-year old Authority member gets decimated in one stab and the Guardian gives a chilling speech with that nine-year old's blood dripping down his face.
Been mostly there, done a lot of that.
But the cut to that combat mission actually took me by surprise. It was different and fresh and made Terry into a layered character about whom I'm suddenly interested. I can't say the same about a lot of residents in Bon Temps.
(Am I curious who killed off Sam's Shifter pals, for example? Sure. But has Sam evolved or changed in any way since the day we met him? The show can try to set up mysterious storylines around him, but there's nothing about Sam himself that makes me care.)
It's for this same reason that Bill and Eric teaming up has resonated so well on Season 5. It's simply a new set-up for the pair, one that hopefully continues now that Bill has witnessed Sookie getting it on with Alcide* and will stop pining after a woman who doesn't even know how to make a proper drink and who, Lafayette is right, continues to pull men in to protect her. At their own peril, of course.
(*After so much build-up and so many teases, that couldn't have been the Alcide/Sookie sex scene so many viewers have clamored for, right? I'd imagine it would upset a few million women out there if so. It's not like Joe Manganiello is afraid to bare his body.)
How does Bill plan on forcing Sookie to assist with his Russell Edgington search? How close is Russell to fully returning? Who actually dug him up? All worthwhile questions as we move forward.
Elsewhere, Jason and Andy's foray into faery world isn't necessarily fresh, but it's a welcome return to a storyline that simply felt dropped on True Blood Season 4. Sookie is of a different species and we were led to believe this would be explored last summer. What does that really mean? Who else is out there? What sort of danger is she in as a result?
Using a local judge was certainly a roundabout way to bring us back to this universe, but whatever. We're here now. There are apparently stripper and VIP rooms involved, so let's do this! Let's really delve into these great-smelling, light-shooting creatures, especially not that the bomb has been dropped on Jason: vampires killed his parents.
Finally, damn if this episode didn't make me cry (non-bloody) tears. Those were some legitimately moving scenes between Eric and Pam, and then Pam and Tara. Even Bill's simple words to Jessica were well said and heartfelt. Yes, Mr. Compton, you did VERY well, even if Jesscia needs to find a better pot dealer.
The Maker/Makee relationship is a fascinating one. Godric would be proud of the progeny he created and the speech he gave to his offspring upon freeing her from his command.
But is Pam leading Tara down a dangerous path? No human can hurt you again? You are in control? Seize the power? Sounds an awful lot like the words of the Sanguinista movement, doesn't it? I've said since the premiere that Tara as a vampire is boring because Tara as a human was also angry, bitter and unfriendly. There didn't feel like a lot of new ground to mine here.
I'll be proven very wrong, however, if Tara gets swept up in the revolutions that Roman is attempting to quell. It would bring multiple storylines together and maybe - just maybe - it would lead to Roman sticking a stake built from Judas' death scene into Tara's chest, obliterating the character from existence.
A critic can dream, can't he?
Matt Richenthal is the Editor in Chief of TV Fanatic. Follow him on Twitter and on Google+.